Clacton and Heywood and Middleton by-elections: Voting under way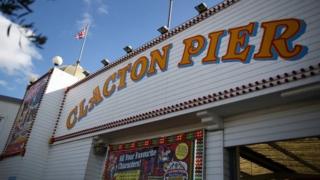 Polls have opened for by-elections taking place in Clacton in Essex and Heywood and Middleton.
Voters in Heywood and Middleton, Greater Manchester, will choose an MP from five candidates following the death of Labour's Jim Dobbin.
Eight people are running in the contest in Clacton, which was triggered after Conservative MP Douglas Carswell defected to the UK Independence Party.
Voting lasts until 22:00 BST with the results due early on Friday.
Mr Carswell won the seat for the Conservatives in 2010 with 53% of the vote, from Labour on 25%. The Lib Dems came third, followed by the BNP, Tendring First, Green Party and an independent candidate.
This time around, Mr Carswell, the UKIP candidate, faces Andy Graham of the Liberal Democrats, Howling Laud Hope of the Official Monster Raving Loony Party, independent candidates Bruce Francis Sizer and Charlotte Rose, Chris Southall of the Green Party, Conservative candidate Giles Watling, and Labour's Tim Young.
Mr Dobbin had represented Heywood and Middleton since 1997. At the 2010 general election, he took the seat for Labour with a majority of 5,971 and just over 40% of the vote. The Conservatives were second, followed by the Lib Dems, BNP, UKIP and an independent.
In the by-election Labour candidate Liz McInnes faces John Bickley of UKIP, Conservative Iain Gartside, Abi Jackson of the Green Party and Liberal Democrat Anthony Smith.
Full details of the results as they come in - and the reaction - will be on the BBC News website and the BBC News Channel throughout the night. There will be a by-election special on BBC One with Andrew Neil from 00:20 BST on Friday.
---
In Heywood and Middleton the candidates, in alphabetical order, are:
Bickley, John - UK Independence Party
Gartside, Iain - Conservative
Jackson, Abi - Green Party
McInnes, Liz - Labour
Smith, Anthony - Liberal Democrats
---
In Clacton the candidates, in alphabetical order, are:
Carswell, Douglas - UK Independence Party
Graham, Andy - Liberal Democrats
Hope, Howling Laud - The Official Monster Raving Loony Party
Rose, Charlotte - Independent
Sizer, Bruce Francis - Independent
Southall, Chris - Green Party
Watling, Giles - Conservative
Young, Tim - Labour