Clacton: Fertile ground for anti-politics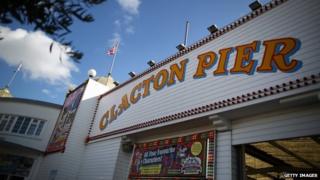 It is the home of fresh air and fun. Of Kiss Me Quick and now, apparently, UKIP. If the polls are right, this constituency may return the first UKIP MP to the House of Commons in a by-election on Thursday.
It is a constituency of contrasts. Just down the coast from Clacton pier, via a bus that rattles over a progressively bad road surface, is Jaywick, one of the most deprived areas in the country.
Here, outside the Never Say Die pub, three lads are making their way to the chippie for a lunchtime bite.
Have you ever voted, the first is asked, as his mates giggle.
"No, and I won't either. It's pointless. I don't even follow it to listen to what any of them are doing or saying they're going to do. They just don't keep to their word."
Why does he think that?
"Cos nothing ever changes. It just gets worse. In terms of everything. Immigration, benefits, housing, everything."
His friend, Sam Carter, who is 21 and employed at a local amusement arcade, says he's got too many issues to spend much time thinking about politics.
"What David Cameron's saying to Ed Miliband or whoever is of no relevance to me. I've still got to get up in the morning. They're not going to put food on my table."
He doesn't believe UKIP can change anything.
"Every person who is working-class can relate to Farage, who goes into a pub and drinks beer and pretends to be working-class, you know. You can have new parties like UKIP but there's not enough momentum for them to make effective changes."
Clacton is part of an arc of potentially prime UKIP territory running roughly down the east coast of England. With its large, overwhelmingly white working-class population, and its economic problems, worries abound about jobs, immigration and the EU.
---
The full list of candidates, in alphabetical order by surname, is:
Carswell, Douglas - UK Independence Party
Graham, Andy - Liberal Democrats
Hope, Howling Laud - The Official Monster Raving Loony Party
Rose, Charlotte - Independent
Sizer, Bruce Francis - Independent
Southall, Chris - Green Party
Watling, Giles - Conservative
Young, Tim - Labour
---
Up the road, but right at the other end of the generational scale, at the Salvation Army's lunch-club, they're just as fed up.
"They don't represent anything that I hold dear," says one woman as she sips at her tea. "I did think it was worth voting but I'm not so sure now."
"They don't do a good job for the elderly because they don't live as we live," another chimes in.
Depending on who you believe, Thursday could mark either the latest phase in a political revolution which is sweeping the country, or a fleeting moment of rebellion, a mere footnote in British political history.
The by-election was triggered when the sitting Conservative MP Douglas Carswell defected to UKIP.
"All my life I've been a Labour voter," Mick Masterson says, as he drives his black taxi along Jaywick's streets, on his way towards London for a weekend shift.
"But this occasion I do feel I'm going to vote Conservative. It sticks in my craw, but what can you do? It's the principle because of the defection. If they keep allowing people to cross the floor isn't that disrespectful of the original vote itself?"
Just to the north is Frinton - also in the constituency but a world away - with its High Street that for years proudly boasted no pub, let alone a chippie.
In De Kof's wine-bar, Rosie De Kof is a lifelong Conservative.
She flipped to UKIP, because of its stance on immigration and the EU, then switched back to the Tories because she now believes they can deliver on both.
Many of the Conservatives she knows will vote for UKIP - but she believes simply because the candidate is well known here.
"Well I think they're voting for the person and not the party. A lot of people have said to me that in this by-election they will be voting UKIP, but when it comes to the general election next year they will definitely be voting Conservative."
But will they? You also find genuine concern about immigration here. Not in terms of "stealing our jobs" - but in terms of the changing national population.
In her boutique clothing shop, that's precisely what scares Sue Falco.
"I've literally moved from Buckhurst Hill three years ago. And I moved this way for the reason that I felt it was changing so much."
She's talking about immigration.
"I mean I used to have a shop in Ilford. You can't go there now. It's a no-go zone."
However true or not that may be, it's what she feels. And it's what many others feel.
The frightened, and the fed up. UKIP is tapping into both - and Clacton is fertile ground.
UKIP has a strong local candidate - and a national message that resonates. If it does win here though, the big question is whether UKIP can translate victory at the seaside into success elsewhere.