Clacton and Heywood and Middleton by-elections: Last day of campaigning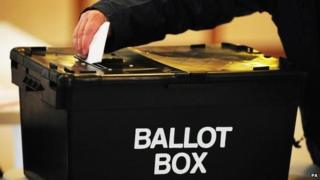 Candidates in the Clacton and Heywood and Middleton by-elections are undergoing a final day of campaigning ahead of polls opening on Thursday.
Voters in Heywood and Middleton, Greater Manchester, are choosing an MP following the death of Labour's Jim Dobbin last month.
The contest in Clacton, Essex, was triggered by MP Douglas Carswell leaving the Conservatives for UKIP.
Polls will be open from 07:00 to 22:00 on Thursday.
---
In Heywood and Middleton the candidates, in alphabetical order, are:
Bickley, John - UK Independence Party
Gartside, Iain - The Conservative Party
Jackson, Abi - Green Party of England and Wales
McInnes, Liz - Labour Party
Smith, Anthony - The Liberal Democrats
---
Jim Dobbin had represented Heywood and Middleton since 1997. In 2010, he took the seat for Labour with a majority of 5,971 and just over 40% of the vote.
Last week, Ed Miliband visited the constituency to campaign on behalf of Labour candidate Liz McInnes, a clinical scientist who works for the NHS.
Speaking to a group of voters, he said "The NHS is one of the most important things about this country and I think people are worried that it is going backwards under this Tory government."
"Liz will be an MP who stands up for that in Parliament."
Nigel Farage also visited to canvass on behalf of UKIP candidate John Bickley.
UKIP MEP Patrick O'Flynn wrote in the Daily Express on Wednesday that if Mr Bickley came at least "a good second" in Heywood and Middleton "my party will have shown that across the north of England it is replacing the Tories and Lib Dems as the main opposition to Labour".
Mr Bickley, pictured above with Nigel Farage, finished second to Labour in February's Wythenshawe and Sale East by-election.
The Conservative candidate, Iain Gartside, currently serves as a local councillor in Bury. On Monday he was joined for the day by Conservative Party chairman Grant Shapps.
Liberal Democrat Anthony Smith will hope to at least maintain his party's third-place showing in 2010. Abi Jackson is the first Green Party candidate to stand in the constituency.
BBC Radio Manchester's political reporter, Kevin Fitzpatrick, asked the five candidates to name their top five priorities.
---
In Clacton the candidates, in alphabetical order, are:
Carswell, Douglas - UK Independence Party
Graham, Andy - Liberal Democrats
Hope, Howling Laud - The Official Monster Raving Loony Party
Rose, Charlotte - Independent
Sizer, Bruce Francis - Independent
Southall, Chris - Green Party
Watling, Giles - Conservative
Young, Tim - Labour
---
Douglas Carswell has represented Clacton since 2005. In 2010, he took the seat for the Conservative Party with a majority of 12,068 and 53% of the vote.
He defected to UKIP on 28 August, saying only Nigel Farage's party could "shake up that tiny little clique called Westminster".
Several party leaders have made stops in Clacton in the run-up to the by-election. David Cameron joined Conservative candidate Giles Watling for an afternoon last week, saying that the Conservatives were "underdogs in this by-election," but that defeat was by no means inevitable.
The polls currently suggest that Mr Carswell could win the seat and become UKIP's first elected member of parliament.
The BBC's Matthew Price discovered a prevailing 'anti-Westminster' sentiment amongst both young and old voters during a visit to the Clacton constituency.
On Monday night the major party candidates took part in a 40-minute TV debate. The BBC's Jodie Smith reported where they stood on the issues.