Lib Dems vow to end coal-fired power generation by 2025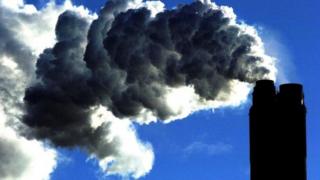 The Lib Dems have said they will ban coal-fired power plants within a decade if they help form the next government.
The Energy Secretary, Ed Davey, told the party's conference in Glasgow coal was the ultimate "climate destroyer".
If the Lib Dems are in power after the election, electricity generation from coal would be phased out by 2025.
He also announced £100m in immediate funding for the Green Deal scheme to pay for better household insulation and other domestic energy saving measures.
The extra money will be available next month.
In his speech, Mr Davey defended his party's record in government on the environment and claimed that progress on delivering cleaner energy would be "stopped in its tracks" in the event of a Conservative victory at next year's election.
'Real enemy'
While he suggested the Conservatives wanted to "frack every square mile of Britain", he said unequivocal opposition to shale gas exploration was also wrong given the predicted fall in North Sea output and the environmental effects of coal-powered generation.
"The real fossil fuel enemy is coal," he said.
"Coal is the climate destroyer and that's why I am pleased to announce if the Liberal Democrats are in government we will legislate to ban the generation of electricity from coal from 2025."
Despite the increasing share of renewables in the UK's energy mix, he acknowledged the phasing out of coal meant the UK would be increasingly reliant on gas "as a bridge to a zero fossil fuel future, at least for the next two or three decades".
The Lib Dems backed an "evidence-based" approach to shale gas development rather than the "free for all" proposed by their coalition partners.
"I would far rather use Britain's gas than Putin's gas or even Middle East gas," he added. "Our own gas is much more secure and, thanks to our tougher environmental regulations and not having to ship it around the world, our own gas is better for the climate too."