Vince Cable 'not losing sleep' over unpaid student loans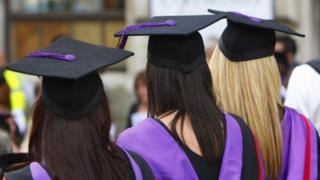 Vince Cable says he is not losing any sleep over rising rates of student loan non-repayment in England.
"These losses crystallise in 30 to 40 years' time - when I'm well over 100," he told a Lib Dem fringe meeting.
Asked to explain what he meant, the business secretary said repayment rates would recover as the economy grew.
Earlier this year, the government revised down estimates for the proportion of student debt that will ever be repaid.
David Willetts, the then universities minister, said the rate of non-repayment was near the point at which experts believe the controversial tripling of tuition fees would add nothing to government coffers.
Adrian Bailey, chairman of the Commons business committee, warned that universities were facing a "financial time bomb" and the government needed to face up to the problem.
'Real world'
Labour said it was it was "clear we have built the student finance system on top of a money pit".
Students do not pay the fees upfront and only start repaying when they are earning at least £21,000 a year.
Mr Cable said his Conservative coalition colleagues such as Mr Willetts had been worried about a rise in estimated loan write-offs, known as resource accounting and budgeting (RAB).
But he said: "These losses crystallise in 30 to 40 years' time - when I'm well over 100. I shan't be sitting round, spending the rest of my life worrying about what happens in the year 2000-and-whatever-it-is."
He added: "If you are terribly fastidious about accounting then the fact that the default rate is now estimated to be higher than it was when we introduced the scheme is something [that worries some people]
"But I think in the real world, I don't think it actually affects things."
Asked by the BBC if he meant he did not care about a possible financial time bomb facing future generations, he said: "I think it does matter whether a problem arises in 30 or 40 years' time."
But quoting economist John Maynard Keynes, who warned about the dangers of too much forward planning, he said: "As Keynes said, in the long term we are all dead and the world could change in ways we can't predict.
"The reason why the RAB charge seems to be higher than we made our estimates three to four years ago is that we have been through a terrible recession.
"This has led to expectations of some graduate salaries being somewhat deflated and therefore the predictions are less, but if you got a period of sustained recovery, the RAB charge would suddenly fall because the predictions would change.
"There are a lot of things I lie awake at night worrying about. This is not one of them. And we really shouldn't get exercised about it."
Around 45% of university graduates will not earn enough to repay their student loans, the government believes.
If the figure reaches 48.6% experts calculate that the government will lose more money than it gained by increasing fees in England to £9,000 a year.