Nick Clegg opposes changing assisted dying laws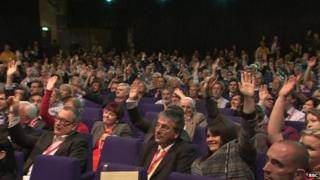 Nick Clegg has said he would not back measures to give sick or disabled people the right to medical assistance to take their lives.
The Lib Dem leader thought Parliament should debate assisted dying, but said it was not something the state should seek to "capture in legislation".
Mr Clegg set out his views during a question-and-answer session at his party's conference in Glasgow.
When he asked for a show of hands, most of the audience disagreed with him.
Mr Clegg said that if MPs were to debate assisted dying legislation, they should have a free vote because it was "something of such profound personal conscience".
Euthanasia and assisted suicide are illegal in the UK but other countries, including Switzerland, permit assisted suicide in specific circumstances. A number of British people have travelled to the Swiss facility, Dignitas.
Nick Clegg said he had seen how the law worked in other countries, in particular the Netherlands.
"I am personally quite sceptical about the ability to capture what is a very, very delicate decision about when you endorse, under the law, the taking of someone's life."
He added that he did, however, understand the views and motivations of campaigners for assisted dying.
Assisted dying has been debated by Parliament a few times over the years.
Mr Clegg asked delegates at the conference in favour of assisted dying laws to raise their hands.
When the majority of hands went up, he responded: "I realise that I am in a minority. I hope it's nonetheless a minority view that can be respected."
Parliament debated an Assisted Dying Bill last July. After a day of passionate debate, the Lords approved the Bill, which was put forward by the former Labour Cabinet Minister, Charles Falconer.
The Bill will now be scrutinised, in detail, by a Lords committee.