New top job in Whitehall attracts only 13 applicants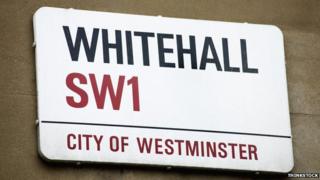 Only 13 people applied for the newly created post of chief executive of the civil service.
This follows complaints that the new position lacks sufficient authority, has confusing lines of accountability, and is not paid enough to attract the interest of many high flyers from the private sector.
Last week the Cabinet Office announced the job will go to John Manzoni. He is currently head of the Major Projects Authority, which monitors the delivery of large complex government projects. He has led the MPA since February this year, when he joined Whitehall after a lengthy career as a senior oil industry executive.
The government has today revealed, in response to a freedom of information request from the BBC, that there were just 13 applications for the chief executive post.
The position was created in the summer after the announcement that Sir Bob Kerslake was standing down as head of the civil service. That title was added to the responsibilities of the Cabinet Secretary, Sir Jeremy Heywood, and a new post of chief executive officer was established to work alongside Sir Jeremy.
This new arrangement was criticised by Whitehall experts, such as Peter Riddell of the Institute for Government. There were complaints that the new job does not actually have the level of management responsibility normally associated with a title of chief executive and that the recruitment process was too hasty to attract a wide range of credible candidates.
Ministers have been trying hard to bring more private sector expertise into the running of Whitehall. The job advertisement, which offered a salary in the range of £180,000-£200,000, indicated that the government wanted a manager with a proven track record in the private sector. But the number of applications received suggests that few private sector executives saw this post as an attractive opportunity.
UPDATE 09:20, 7 October 2014
The Cabinet Office insists that it was happy with the nature of the applicants for the job. A spokesperson said "We are pleased that we had a strong field of candidates including high-calibre business people applying for the chief executive role. John Manzoni's long experience running complex businesses will help accelerate our efficiency programme and improve the way government is run."
However the Cabinet Office refused to reveal how many applicants were from the private sector and how many were existing civil servants on the grounds that "that data is confidential".