Give ministers power to build new homes - Danny Alexander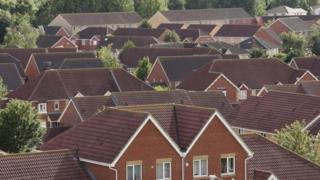 Central government should be given the power to build new homes to solve the housing crisis, Treasury Secretary Danny Alexander has suggested.
Such a move would provide a "backstop" if housing associations and developers failed to meet targets, he said.
It would be a departure from decades of housing policy in the UK, which has seen government take a back seat to the market and local councils.
The Lib Dems have approved a target of building 300,000 homes a year.
The scale of the country's housing problem meant it was worth seeing "what more direct intervention we can make to lift numbers", the Lib Dem minister told a fringe meeting at his party's annual conference in Glasgow.
'Hurdles'
"A truly radical approach would be for the government to also have a direct role in house-building, not just affordable house-building but in the private market also," he said.
"Government could form a view of the amount of housing needed at any point in the cycle.
"If this number was less than the amount that was expected to be built - in the private sector, the housing associations, the local authorities combined - then you would have a capacity for the government to step in, to place orders, to pay contractors, build houses, work out how and when they need to be sold.
"It would be an unprecedented change in housing policy, guaranteeing numbers of house-building not seen since the post-war era."
Mr Alexander conceded the idea faced a number of "hurdles", including the impact on the government's finances.
Mr Alexander said initial work in the Treasury looking at how the proposal could be implemented had begun.
'Scrap right-to-buy'
However, it is thought the idea is not likely to be part of the Liberal Democrats' manifesto for the 2015 general election because of the time needed to consult on the proposal.
Earlier on Monday, the Lib Dem delegates backed a call to allow local authorities to choose not to sell off council housing under the right-to-buy scheme.
The Lib Dem conference was told the policy had contributed towards a shortage of social housing.
Right-to-buy was introduced by Margaret Thatcher's government and the discounts available to tenants have been increased by the coalition government.
Party President Tim Farron said homes that were sold had not been replaced.
In an attack on the Conservative Party, he said: "Their ideological obsession wrecked our communities with right-to-buy but no duty to build.
"And Labour's complete spinelessness meant that we have never undone that devastation so neither the private sector nor the social sector could keep up with the pace of housing need."
The Lib Dems' new housing policy, which includes allowing councils to suspend the right to buy, was approved by party activists in a vote.
It also calls for government investment to build new homes affordable to people on low and middle incomes.
Lib Dem MP Julian Huppert said the money made from housing being sold off under right-to-buy had not been reinvested in building new homes.
Winding up the debate, Business Secretary Vince Cable said the government's Help to Buy scheme, aimed at helping people struggling to get a mortgage, had driven up house prices.
He added: "The right-to-buy policy without replacement has done enormous damage."
Right-to-buy is being phased out in Scotland, where MSPs voted to scrap it in June.