Nick Clegg: Cameron's EU renegotiation plans 'synthetic'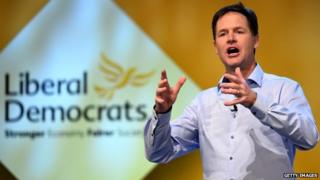 David Cameron's promised renegotiation with Europe will turn out to be "largely synthetic", Lib Dem leader Nick Clegg has predicted.
The deputy prime minister said he supported holding a referendum on Britain's membership of the EU, but only "when the rules change".
He said the Conservatives wanted to "reinvent the wheel" with their pledge of a vote in 2017.
Mr Clegg also defended the Lib Dems' proposals to reduce the deficit.
The Liberal Democrats, currently holding their party conference in Glasgow, have promised to commit an extra £1bn in NHS spending, to levy extra council tax on homes worth over £2m and to give the lowest-paid apprentices a wage increase.
'Major advocate'
Mr Clegg, who is also proposing to to re-open a railway line between Oxford and Cambridge, said his party had gone into more detail than the other two main Westminster parties about their spending plans.
He told BBC Radio 4's Today programme the Conservatives had "moved rapidly to the right" of politics and Labour to the left. He said he would keep his party "anchored" in the centre ground.
He said a rise in apprenticeships and an increase in the personal tax allowance were Lib Dem policies carried out in government, and said the party's "overall approach" would be to maintain the same balance of spending cuts and tax rises to "deliver deficit reduction, but do it fairly".
Lib Dem Pensions Minister Steve Webb was "looking at" the possibility of cutting tax relief for pensioners, Mr Clegg said, but this was "not a policy we are committed to yet".
Mr Cameron has pledged to win back powers from Brussels before holding an in/out poll on Britain's membership.
In his speech to the Conservative Party conference last week, the prime minister said he would not "take no for an answer" in the negotiations and to "get what Britain needs".
The Conservatives say they are the only party that can deliver the referendum.
Labour supports a referendum if more powers are transferred to Brussels, but has said the Conservative pledge is a "distraction" that will put the economic recovery at risk.
It has been reported that senior Lib Dems are prepared to give up their opposition to an EU referendum if they entered coalition talks with the Conservatives after the next election.
Mr Clegg, who said it was "wrong" that someone could come to the UK from Europe and claim benefits "no strings attached", said he was a "major advocate of a referendum on Europe".
'Arbitrary date'
But he said Parliament had already committed to a vote if there was any proposal to transfer more powers from London to the EU.
He said the Conservatives were "tearing themselves apart over Europe" and had "plucked an arbitrary date".
"We don't hold referenda every other Tuesday in this country", Mr Clegg said.
He added: "I cannot reasonably be expected to endorse a strategy which I do not think makes much sense or which confounds and contradicts what we have already legislated on in this Parliament."
Despite Mr Clegg's criticism of his coalition partners, BBC political editor Nick Robinson said he could still see "the makings of a deal" between the two parties.