Labour mansion tax 'would be paid by royals'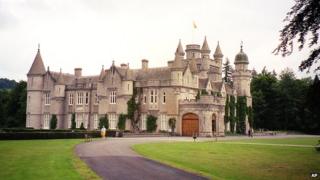 The Royal Family would not be exempt from Labour's so-called mansion tax, Ed Balls has confirmed.
The shadow chancellor said taxation rules were the same for everyone and it was right that the royals "pay taxes just like everybody else".
Labour has pledged to bring in a new levy on homes worth more than £2m if it wins power at the general election.
It has been criticised as a "tax on London" but the party says it would help to "save and transform" the NHS.
Unveiling the promise at Labour's annual conference in September, leader Ed Miliband said it would go towards funding 36,000 extra doctors, nurses and midwives.
Asked on Sky News if the "mansion tax" would cover Balmoral, Mr Balls said there had "always been a cross-party consensus that we have fair and tough rules for the financing of the royal household", adding the royals "pay taxes just like everybody else and rightly so".
"There aren't different rules for anybody," he added. "That's the nature of our society."
But he said parts of the royal estate open to the public would be exempt from the property tax.
The shadow chancellor also confirmed that home owners would be able to self-certify the value of their property, using a system currently applied to commercially owned premises.
'Family homes tax'
Earlier Lord Prescott had said that, other than the "mansion tax" and the party's proposal to raise the minimum wage, "nothing sticks in my mind" from Labour's conference.
"I do remember Ed Balls saying he would freeze child benefit but I can't see many people racing to the polling booths for that," the former deputy PM wrote in the Sunday Mirror.
Meanwhile, Labour donor Lord Noon criticised the "mansion tax" as "hopeless and desperate".
Reservations have also been expressed by Labour MPs in London, including David Lammy and Margaret Hodge, as well as the Conservative Mayor of London Boris Johnson.
A spokesman for the Conservatives said of the policy: "Ed Miliband says this new tax will start at £2m, but even senior Labour MPs in London are saying that it could end up hitting ordinary family homes.
It "looks like this is just a new tax on everyone's family home", the party added.
Although first proposed by the Lib Dems in their 2010 manifesto, leader Nick Clegg has told his party's conference he wants to replace the idea.
He instead wants to introduce new council tax bands on high value homes.