Officials wanted to axe FE colleges - Vince Cable
By Brian Wheeler
Political reporter, Lib Dem conference, Glasgow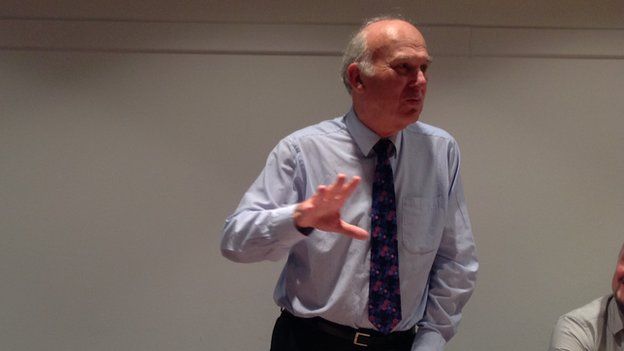 Government officials wanted to axe all further education colleges in England and Wales to save money, Vince Cable has claimed.
The business secretary said he blocked the move in 2010 - despite being told by civil servants in his department that "nobody will really notice".
He was speaking at a fringe meeting at the Lib Dem conference in Glasgow.
He suggested the money saved could have been used to keep his party's pledge to axe student tuition fees.
"We took a big political hit for that decision," said Mr Cable, but he said it was worth it to protect "post-school" training, which he said would get a further boost with plans for more apprenticeships.
"I have a so-called unprotected department. We were going to have our budget cut by 25%. The biggest items were universities and students, and FE.
"And I could have taken the advice we had from the civil servants, who said 'well, why don't you just effectively kill off FE. Nobody will really notice."
He added: "The easy way out would have been to have taken all the money out of the FE sector and out of training and I said 'we are not doing that'.
"It is absolutely critical for the future skills base of the country that we have strong post-school training and education.
"So although the FE sector has been cut - I won't pretend they have had an easy life - we have , to a significant extent, protected them."
The coalition cut the overall teaching budget for higher education, excluding research funding, by £2.9bn or 40%, over four years.
Within that, the further education teaching budget was cut by £1.1bn, or 25%.
The coalition increased the maximum universities could charge for tuition from £3,375 to £9,000 a year to compensate for the cuts in teaching budgets.
The Lib Dems - who promised to axe tuition fees before the 2010 general election - saw their opinion poll ratings plummet following the decision and the party has yet to recover.