Minister Matthew Hancock sorry for 'queers' retweet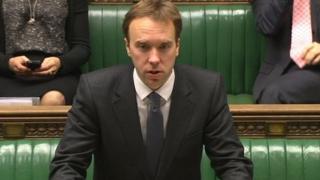 A Conservative minister has apologised for sharing a poem on Twitter which suggested the Labour Party was "full of queers".
Business Minister Matthew Hancock said his retweet had been an "accident" and described the comment as "offensive".
The MP for Suffolk West shared a few poems on his Twitter page to coincide with National Poetry Day on Thursday.
Labour MP Chris Bryant wrote on Twitter that the comment was "vile" and Mr Hancock should be sacked.
Mr Hancock did not write the comment, but it was contained in a limerick criticising the Labour Party, which he shared on his Twitter page.
The MP received criticism on Twitter, including this from Mr Bryant, a shadow work and pensions minister, who wrote: "Amazed @matthancockmp sends vile tweet about "queers". Cameron shd sack him now."
Mr Hancock, who has more than 17,000 followers on Twitter, later tweeted a message saying: "Previous RT was a total accident. I wholeheartedly disagree with offensive comment in the tweet & am incredibly sorry for any offence caused."