Victoria Pendleton makes surprise Tory appearance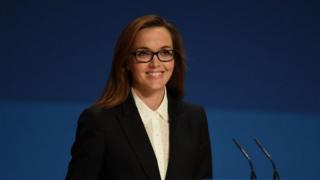 Former Olympic champion Victoria Pendleton has made a surprise appearance at the Tory conference.
Ms Pendleton, who won numerous medals during her cycling career, spoke about the importance of sport in school.
It built discipline, character and determination - "things that do not necessarily show up in test results, but employers are always looking for".
She praised the government's "PE premium" initiative to encourage more primary school pupils to play sport.
The athlete, who retired after the 2012 Olympics in London, spoke for just under 10 minutes before introducing Education Secretary Nicky Morgan.
Ms Pendleton, who accompanied Ms Morgan on a school visit earlier this year, urged the government to keep supporting sport in schools, which she said had "abundant" physical, mental and social benefits.
"Because if you want more children to leave school healthy and prepared for life in modern Britain, with everything that will be thrown at them, you might as well give them a sporting chance," she said.