Boris v Theresa: Who won battle of the speeches?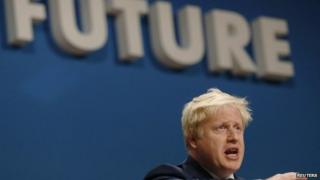 They love him alright, but would they vote for him over Theresa May?
That was the dilemma nagging at conference-goers as they streamed out of the hall after a typical display of verbal gymnastics - calisthenics, er, physical jerks, um, where was I? - from London mayor Boris Johnson.
"If only all the MPs had his charisma," said a woman from Penrith.
She and her husband were positively glowing, as if they had just seen a great comic turn off the telly. One day, the party might have to choose between Boris and Theresa May - who had directly preceded the London mayor on the conference stage. Which way would they vote in a leadership contest?
"Ooh. Now you're asking."
After a considered pause, and a few wavering hand gestures, they seemed to settle on the home secretary.
"I think he needs to harness his enthusiasm," was the woman's verdict on Boris Johnson.
'Permission to purr'
The speech was, as we are contractually obliged to say on these occasions, vintage Boris.
Only he could pull off an extended metaphor involving Sandra Bullock, George Clooney, outer space and pensioners sheltering from Ed Miliband's tax policies.
Only Boris Johnson could describe himself as a "municipal toenail" or get a big laugh and a round of applause for hailing a company that produced "weapons-strength chilli for crowd control" ("Believe me, Theresa, they will be begging for water cannon, after that").
Or get one big laugh after another by waving a house brick around (it's too complicated to explain).
But this was relatively safe stuff compared with previous Johnson party conference speeches. There was a little tweak of David Cameron's tail. "You have my permission to purr," he said, in a cheeky reference to the Conservative leader's recent HM Queen faux pas.
Mr Cameron was - as usual - seated in the audience to witness the London mayor getting more laughs and more applause than he will probably get during his big end-of-conference speech on Wednesday.
But this year he did not have to grin through gritted teeth.
There was no flashing of the leg to the right wingers on Europe or taxation. Nothing that could be interpreted as a leadership bid.
Johnson lavished praise on David Cameron, without a trace of irony (well, maybe a little) and stuck to his patented brand of bullish boosterism (the party prizes him for his ability to make Conservativism sound life-affirming and fun, rather than a dry exercise in accounting).
Theresa May also stuck to what she does best. Delivering a stern lecture to the party about complex, difficult issues that they might not necessarily want to think about.
In this case, the fight against Islamist extremism and the need to stop young black men being searched by the police because of the colour of their skin.
The London mayor gloried in polysyllabic verbal adventures. Theresa stuck to plain language delivered in a calm, measured, but forceful way. Like a chief constable briefing the media after a grave incident.
Johnson pulled his best deadpan expression as he soaked up the applause.
There was much less applause during Theresa May's speech and when it came she looked almost annoyed by it. There was no hiding the standing ovation at the end - the speech had gone down well.
She allowed herself a tight little smile as she hailed her deportation victory over the European Court of Human Rights.
She was not above a bit of party politics either - bashing the Liberal Democrats for blocking the Communications Data Bill. This elicited a low groan of approval, almost a boo, from the audience.
It was a tiny touch of pantomime in a very sober, and sobering, address (Johnson, on the other hand, kicked off his speech with a bit of call-and-response that was pure pantomime).
There are other likely contenders for the leadership if a vacancy comes up. They include, of course, Chancellor George Osborne, who delivered a well-received, serious and - as Ken Clarke called it at an event last night - "grown-up" address on Monday.
But this was a rare chance for party members to see the two other most fancied runners go head-to-head.
The ones I spoke to thought it was too close to call. But they were at least grateful, they said, for the demonstration of talent at the top of the party.