David Cameron: I got it right on Scotland referendum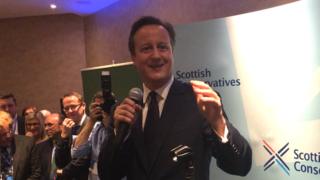 David Cameron has hailed his decision to grant Scotland an independence referendum with a single question, saying; "it was the right call".
The prime minister was addressing a packed - and jubilant - reception for Scottish Conservatives at the party's annual conference in Birmingham.
The PM has been criticised by some for not allowing a third question - on "devo max" - on to the ballot paper.
He also recalled his sleepless night as the results came in on 18 September.
'Open and democratic'
"I tried to go to sleep. it wouldn't work. I was sat at 3am in the morning in the press office at Number 10 Downing Street.
"At about four o'clock my children came down. Nancy and Elwyn. Elwyn was wearing some tartan pyjamas.
"They knew how worried their Dad was - and they cared deeply about it too. And they watched result-after-result come in and I must say I now know the definition of relief.
"Going to bed as prime minister of the United Kingdom and waking up as prime minister of the United Kingdom."
He said he had been inundated with messages from around the world from "friends" of the UK "delighted that we have decided to stay together but also impressed that this country would do it in such a clear, fair, open and democratic way".
"In politics they say you should never gloat and that is normally right, but there is one small one.
"We had a very clear strategy, a very clear plan, When Alex Salmond was elected into Holyrood with a very clear SNP majority, we could have ducked the fight we could have tried to put off what he wanted to do have let him have illegal referendum after illegal referendum."
'Right call'
He went on: "We could have let him, rather cowardly I think it would have been, break up the union by stealth.
"That was not the choice we made. We said 'one question, one referendum'. Fair, legal and decisive.
"And let's not forget - in the dying weeks of the campaign - there were one or two people who were beginning to wonder whether that was wise. Let's just say now, loudly and proudly - it was the right call!."
He stressed that the "vows that we made about further Scottish devolution. They will go ahead."
The prime minister also said the Conservatives have a "huge political opportunity" in Scotland to win more seats at next year's general election.
Since 2001, the party has only had one MP in Scotland after facing a wipe out in 1997 when Labour came to power.
Mr Cameron said his party had an opportunity to win seats in the Lowlands, Highlands, Fife, Argyll, Aberdeenshire and Perthshire - where the SNP has strong support but which voted no in the referendum.
He said: "We have got some targets in our sights."
Praising Scottish Conservative leader Ruth Davidson for her part in the campaign, he added: "We have got the people, we have got the message, we have got the leader and now I think we can really turn the next 200 days into the opportunity to deliver more Conservative seats in the Westminster parliament for Scotland."