Conservatives pledge union law reforms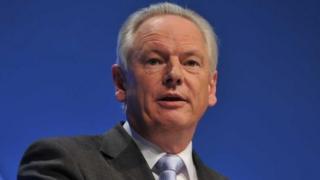 Francis Maude has restated a pledge to outlaw strikes where fewer than half of eligible union members have voted.
The Cabinet Office minister said a future Conservative government would stop strikes being called on the basis of "out of date" ballots.
Speaking at the Conservative Party conference, he also said Britain had "the best civil servants in the world" - but not the best civil service.
And he denied trying to "politicise" the service.
'Role model'
On proposed changes to strike laws, Mr Maude said: "It just isn't right that an unrepresentative trade union baron should be able to close schools, and bring the Tube to a standstill, when they can't even persuade half of their own members to vote.
"We will legislate to end that for good."
He added: "We will also end the nonsense of strikes being called on the basis of a strike ballot that can be months or years out of date."
He also criticised the "outdated" practice of union fees being paid directly from employees' pay cheques.
Mr Maude said the package of fiscal reforms brought in since 2010 had led to "better services being delivered more efficiently".
He attacked what he called Labour leader Ed Miliband's "empty slogans" and said the government's policy of cutting costs efficiently was how "we're protecting our NHS".
Mr Maude, whose remit as Cabinet Office minister includes reform of the civil service, said: "I think we have the best civil servants in the world and we probably don't thank them enough.
"My own private office really are the best. But this isn't yet the best civil service in the world. The whole is less than the sum of the parts."
He also said that in terms of IT Britain was now a "digital role-model" admired and imitated by countries such as the United States and Australia.