British food: We've never had it so good, says minister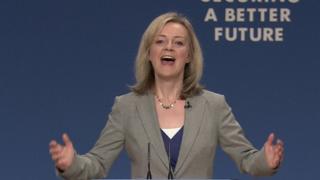 "When it comes to British food and drink we have never had it so good," Environment Secretary Liz Truss has told the Conservative Party conference.
She said the British used to have an "inferiority complex about some fantastic British dishes".
But food and farming was now one of "our biggest success stories".
However she said it was a "disgrace" that "we import two-thirds of our apples, nine-tenths of our pears, and two-thirds of our cheese".
She said that from "the apple that fell on Newton's head" to "the orchards of nursery rhymes", the fruit has always "been a part of of Britain, a part of our country".
And she would not "rest until the British apple is back at the top of the tree".
'Tea to China'
A Conservative government would aim to ensure there was "more British food in Britain".
"I want our children to grow up knowing the taste of a British apple, of Cornish sardines, Herefordshire pears, Norfolk turkey, Melton Mowbray pork pies and, of course, black pudding."
Speaking in Birmingham, Ms Truss said almost 600 new markets had been opened overseas, adding exports had increased by more than £1bn in the last four years.
"We are producing more varieties of cheese than the French. And we are selling tea to China - Yorkshire tea. "When it comes to British food and drink, we have had never had it so good.
On her broader environment remit she pointed to measures including the planting of over one million trees, and greater funding for flood defences.
She said the party's approach was "not about targets and turbines".
"This is about practical Conservative environmentalism where a strong healthy environment is part of a strong healthy economy and our long-term economic plan."