Tory defector Mark Reckless: I may lose by-election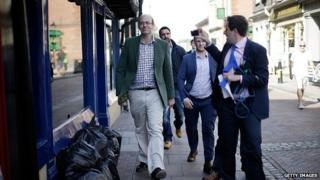 The Conservative MP who defected to UKIP on Saturday has told the BBC he accepts that he may lose the by-election he has triggered.
Mark Reckless, MP for Rochester and Strood since 2010, said he knew that in doing so he would become merely "a footnote in history".
He said that he faced "enormous personal risk" in making the decision.
The MP has been accused of "lying" and "betrayal" by senior Conservatives since his announcement.
Speaking to BBC Radio Kent on Monday, Mr Reckless said that had he revealed his plans to resign from the Conservatives to senior party figures, he would have been attacked in a "vicious, vicious way".
Denying that he lied, he said: "You cannot announce these things in advance and what the Conservatives would like me to have done is to have told them so they could have unleashed a media onslaught on me."
At the Conservative Party annual conference in Birmingham, party chairman Grant Shapps and Leader of the House of Commons William Hague were among several Tories to denounce Mr Reckless.
Describing Mr Reckless's move as a "betrayal", Mr Shapps told party members in the hall: "Your trust has been abused. You have been cheated."
A voicemail recording was also released of Mr Reckless promising on Friday to campaign for the Conservatives over the weekend.
William Hague, speaking to The Sunday Telegraph, described the defection as a "stupid and self-defeating act".
"All Mark Reckless has done is help Ed Miliband."
'Fighting chance'
In his BBC interview Mr Reckless said he thought he could no longer serve his constituents' interests as a member of the Conservative Party, but noted that he would soon find out if voters shared that belief.
"Perhaps the people of Rochester and Strood don't feel as I do. Perhaps they don't feel let down. Perhaps they are not worried about the government breaking its promises."
He described the decision to resign as a "big risk", but said he thought he had a "fighting chance".
"I will take my case to the electorate here and the people I have worked for and done as much as I possibly could over the last four years."
In August, the Conservative MP for Clacton, Douglas Carswell, resigned his seat and said he would fight the resulting by-election for UKIP.
That constituency is rated the most sympathetic to UKIP in the country by academic Matthew Goodwin. Mr Reckless's seat, Rochester and Strood, is ranked as the 271st most sympathetic to UKIP.
At the 2010 General Election Mr Reckless, standing for the Conservatives, got 49% of votes. Labour got 28%, the Lib Dems 16%, English Democrats 4.5% and the Greens 1.5%.