Conservative views: Reckless betrayal?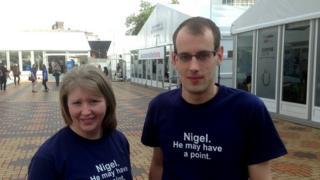 Feelings are running high at the Conservative Party conference in Birmingham following the defection of MP Mark Reckless to UKIP.
But is the anger and outrage expressed by party chairman Grant Shapps and some local party members in his Rochester and Strood constituency - for his "betrayal" and "abuse" of trust - shared by party members from around the country?
Conference-goers certainly feel let down by the MP's decision and that of fellow UKIP defector Douglas Carswell, and most I spoke to think there may be more defections to come.
"I think it has shook us a bit," says Emily Bethell, from Macclesfield, before Mr Shapps took to the stage.
"I've been speaking to some of my friends this morning, and it was the first thing we were talking about."
But she refuses to criticise the defectors personally, saying: "They are more than entitled to their own opinions, so if they feel that's the way to go then good for them."
Party members seem more angry about the timing of Mr Reckless's defection than the fact he has jumped ship.
"It's totally unnecessary. It could have waited until the general election next year. I don't think they are doing themselves any favours at all," said Victor Gray, a former councillor, who lives in Canterbury.
Collette Wyatt-Lowe, a councillor from Hemel Hempstead, agreed.
"It is very disappointing. We are so near the election now. If people want to do thing that saves money, if you like, having a by-election now costs local people. If they wait until the general election they make their point just as well if they stand for UKIP then."
Others struggled to understand what the defectors hoped to achieve, arguing that they should have continued fighting for their cause within the party rather than jumping ship.
"It's a crazy, illogical decision," said William Grover, of Louth and Horncastle.
"It is hugely frustrating, but having said that I think they are doing it the right way by standing down and calling a vote. So they are not just switching sides. But it's still the wrong decision."
There was a lot of sympathy with Mr Reckless's views on Europe.
"My own personal feeling is that we should get out of Europe and we should have a referendum before the election rather than have it promised after the election," said councillor Harry Turbyfield.
"Because a lot of people are saying to me, on the floor, on the street, 'oh it will never happen'."
But he was sanguine about the defections and did not think the party was on the brink of breaking in two.
"You will always get people like that who are not 100% committed to what they are doing."
Victoria Wright and James McCabe were attracting a lot of attention with their "Nigel. He may have a point" T-shirts.
But they were a little reticent when questioned about why they had had the shirts made.
"We want politicians to listen to the grassroots members but we don't want to leave the party. We are Conservatives," said Mr McCabe.
Pushed on what changes he would like to see in the party, he said Mr Cameron should "introduce more cuts" to deal with the deficit.
The pair said they had seen Conservative members in their Orpington branch defect to UKIP, and believed there was a "good chance" Nigel Farage's party could cost the Conservatives the election.
But they had no qualms about drawing attention to the UKIP leader.
"We are volunteers, we give up our time. We might as well say what we think," said Mr McCabe.
It would be wrong to suggest the defections have cast a pall over the conference, however.
Some party members, such as PR executive Steven George-Hilley, were in a buoyant mood as they arrived at ICC for the start of their conference.
"Of course it's slightly frustrating but we are here for one very good reason - to pursue a long-term economic plan for the future of Britain."