Cameron: IS threat may require Syria intervention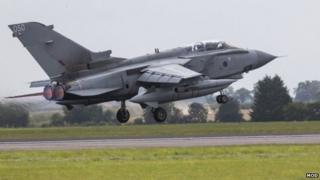 David Cameron has said there is a "strong case" for UK military intervention in Syria, as well as Iraq, to confront Islamic State (IS).
The prime minister said it was in the UK's interest to join in bombings in Iraq against IS and there was "no legal barrier" to similar action in Syria.
MPs voted by 524 to 43 to back action in Iraq.
Downing Street has said a small number of troops could be sent to Iraq within hours if the Commons backs action.
However, the prime minister's official spokesman emphasised the troops would not be in a combat role but would be used to guide air strikes by RAF fighters and, possibly, to train Iraqi and Kurdish peshmerga forces, although this may take place in neighbouring countries.
Syria next?
The government won Friday's vote comfortably, with the Conservatives, Liberal Democrats and Labour all supporting air support after it was requested by the Iraqi government.
Mr Cameron told a packed House of Commons that the UK could do more in Syria, where America and Arab allies are engaged in aerial bombardment of IS positions.
The PM said he believed military action there would be lawful on the grounds of intervening to prevent a humanitarian catastrophe and protecting neighbouring Iraq from attacks being launched from Syria.
But he acknowledged there was no consensus for such a move among MPs.
Ex-cabinet ministers Ken Clarke and Liam Fox are among Tory MPs backing action in Syria, although others are more cautious and Labour says the UK should seek a UN resolution before such a move.
Downing Street said there would be no action in Syria without a Commons vote unless there is an urgent humanitarian need to do so.
In other developments:
IS has seized large parts of Iraq and Syria in recent months. The group, also known as Isis or Isil, has used tactics that have included beheadings of soldiers, Western journalists and aid workers.
Making the case for British action, Mr Cameron said the killing of a British hostage illustrated that the challenge was not "on the far side of the world" and the "brutal, terrorist organisation" was a "clear and proven" threat to UK lives.
"This is not the stuff of fantasy. It is happening in front of us and we need to face up to it," he said.
'Unique assets'
Citing attacks by IS on targets in Europe, and the growing number of foiled terror plots, he said the organisation "already declared war on us and there was no walk on-by option".
Stressing that the UK had "unique assets" to contribute to the military offensive, he added: "It is our duty to take part.
"This international operation is about protecting our people, too, and protecting the streets of Britain."
---
Analysis by BBC Political Editor Nick Robinson
The prime minister said he would not extend "pre-meditated" military action in Syria without a Commons vote but added that he reserved the right to act if there was an urgent humanitarian need to do so.
This will fuel the fears of some MPs that he will look for an excuse to extend action without first seeking the agreement of the Commons.
His official spokesman insists that this fear is misplaced since the PM has pursued a "very deliberate and measured approach" and has been "determined to build a consensus".
It is worth remembering that military action in Libya began before a Commons vote because there was said to be an imminent threat of large scale loss of life in Benghazi.
British military involvement is likely to last a very long time.
The defence secretary has said we're in for the long haul which might, he said, mean two or three years.
In truth, of course, neither he nor anyone else can know how long this - whatever this is - will take.
---
Addressing concerns from MPs that the UK could be dragged into a long war, Mr Cameron said the use of combat troops would be "wrong" and conceded air strikes would not "roll back" IS alone but must be part of a "comprehensive" political and humanitarian plan.
Referring to previous external interventions in Iraq, he added: "This is not 2003 but we should not use past mistakes as an excuse for inaction or indifference."
Deputy Prime Minister Nick Clegg, whose Lib Dem party led opposition to the US-led invasion in 2003, said Parliament should learn lessons from history but not be "trapped or paralysed by the past".
Backing Mr Cameron on Iraq, Labour leader Ed Miliband said IS was a "murderous" organisation intent on "more killing".
"There is no graver decision for our Parliament and our country," he said.
"But protecting our national interest, security and the values for which we stand is why I will be supporting the motion this afternoon."
Shadow foreign secretary Douglas Alexander said Labour's support for future action in Syria would not be conditional on UN authorisation as, alluding to possible vetoes by China and Russia, "the UK's moral compass is not set in Moscow and Beijing".
But he urged the government to seek the "broadest legitimacy" for action.
'Mission creep'
On Thursday, about 250 people protested outside the gates of Downing Street against the possibility of military action in Iraq.
Some MPs have also questioned the objectives behind the military action.
Conservative backbencher John Baron said the West risked "going down a cul-de-sac without a successful exit strategy", Labour's Denis Skinner warned of "mission creep" while the SNP said its six MPs would oppose a step towards a "third Iraq War".
Speaking at his party's annual conference in Doncaster, UKIP leader Nigel Farage said the UK's record in the Middle East over the past decade had been a "complete and utter shambles" and he did not support air strikes.
The government does not have to seek the approval of MPs to commence military action but it has become customary to do so since this first happened over the Iraq war in 2003.
---
Analysis
By Jonathan Beale, defence correspondent
Six RAF Tornados in Cyprus have been ready to carry out air strikes for weeks. Their laser-guided bombs and missiles will be loaded and armed soon after Parliament gives the green light.
The Tornados have already been flying reconnaissance missions over Iraq and will have identified potential targets. But some of the obvious ones, like command and control centres, will have already been hit by US war planes which have been launching strikes for the past month.
The focus of their attacks have now switched to Syria itself. So the RAF will also be looking for targets of opportunity - such as IS fighters and vehicles on the move.
The expected intervention of the UK will not be a game-changer. During military intervention against Libya in 2011, the RAF had three times as many war planes involved. But the fight against IS will be more like a marathon than a sprint.
And the longer it goes on, IS will adapt its tactics, and air strikes will inevitably become less potent.
---
The government's motion specifically rules out any attacks on IS in Syria, following the Commons' rejection of joining in air strikes in that country last year.
The US began a series of air strikes in Iraq last month, and on Monday it began attacks on targets in Syria.
Jets from Saudi Arabia and the United Arab Emirates have joined US forces in the attacks, and the US says more than 40 countries have offered to join the anti-IS coalition.
IS has threatened to kill British hostage Alan Henning, whose wife pleaded for his release on Tuesday.
The threat was made in a video showing the beheading of British aid worker David Haines earlier this month. Also on Tuesday, IS released a second video showing UK journalist John Cantlie.