Nigel Farage: Cigarette plain packaging 'utterly barmy'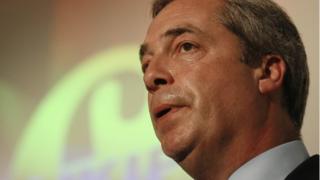 Moves to introduce plain packaging for cigarettes and tobacco have been labelled as "utterly barmy" by UKIP leader Nigel Farage.
He also claimed a "wet middle class" in Westminster will pursue measures against alcohol and sugar.
The UK government has proposed a law that cigarettes be sold with graphic health warnings and no branding.
Mr Farage, who called the plans a "counterfeiter's dream", spoke ahead of his party's conference on Friday.
'Bonkers'
Mr Farage told Asian Trader magazine that he was "totally opposed to tobacco plain packaging with no compromise of any kind at all".
He said he was "watching with incomprehension what we are doing on e-cigarettes - these are a huge success with a big marketing potential for small shops and yet we are doing or best to ban them everywhere".
He added that tax on cigarettes was too high and encouraged smuggling and illegal tobacco products: "It is just nuts, it's bonkers."
He said that a "wet middle class" in Westminster and Brussels would pursue measures against alcohol and sugar, adding: "There is no end to this, absolutely no end to this."
UKIP is expecting around 2,000 people at its conference in Doncaster, which begins on Friday, Mr Farage said.
The conference location was a "strong message" that UKIP was not just for supporters of the Conservative Party, he added.
He said the party was for a "broad spectrum" of people with differing views.
Mr Farage denied accusations of racism which have dogged UKIP, saying that in the run-up to the European elections he and UKIP had been subject to "utterly monstrous" misrepresentation in the media.