David Cameron in UN talks about action against IS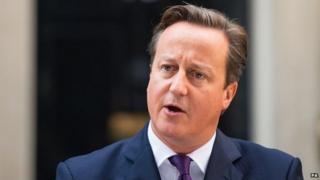 David Cameron supports the latest air strikes by the US and five other countries from the Gulf and Middle East, Downing Street has said.
The UK prime minister, in New York for a UN General Assembly meeting, will be holding talks about "what more the UK can do to contribute", No 10 added.
The UK is already providing arms to the Kurds as well as surveillance support.
Labour's Ed Miliband says Mr Cameron should seek a UN Security Council resolution to rally support against IS.
BBC political editor Nick Robinson said Parliament could be recalled by Friday if Labour and Lib Dems back UK military action.
The involvement of UK forces could be restricted to Iraq, where they would be operating at the invitation of the government in Baghdad.
Nick Robinson said Mr Cameron would only put the issue to a House of Commons vote, if he was confident of support from Labour, the Lib Dems and his own backbenchers.
"David Cameron will not risk a repeat of the Commons defeat he faced last summer over air strikes in response to President Assad's use of chemical weapons."
'Murderous ways'
In his keynote speech to Labour's annual party conference in Manchester, Mr Miliband said he backed US air strikes on IS, also referred to as Isil and Isis, targets in Syria.
But he stressed: "What needs to happen now is that the UN needs to play its part - a UN Security Council resolution to win the international support to counter that threat of ISIL."
He said threats by IS militants - who have already murdered a British aid worker and two American journalists - to kill Alan Henning, a second British hostage, underlined the need for action to deal with the group.
"Alan Henning is simply an aid worker trying to make life better for victims of conflict," he said. "It should tell us all we need to know about ISIL and their murderous ways that they take a decent British man like Alan Henning hostage."
'Fair wind' for action
Earlier, former Labour foreign secretary Jack Straw said under the right circumstances there could be support for Britain joining air strikes in Iraq.
He said the situation was different from when the Commons voted against intervention in Syria last year.
"If Mr Cameron comes to Labour and there's a clear proposition I think he'll get a fair wind," he said.
Several Conservative MPs who opposed air strikes in Syria last summer have told the BBC they would now support military action.
Crispin Blunt, a former minister and one of the Tory rebels at the time, said there was "no great controversy" about the UK's military involvement - short of a significant ground commitment - and there was no need to recall Parliament.
"Any military strategy against ISIS, which is necessary, must involve taking them on in Iraq and Syria," he said.
Fighter jets
Another of last year's Tory rebels, Sarah Wollaston, said if Syrian strikes were the only way to hit IS effectively she would support them.
She has explained her position in an open letter to constituents on her website.
Conservative Julian Lewis said he "would be in favour" of military action if there was "a coherent and sensible plan".
Charles Walker, another backbencher who rebelled last year, said he would support action against IS - with or without the recall of Parliament.
Other Conservatives have privately confirmed they would support strikes.
The US, along with Bahrain, Qatar, Saudi Arabia, Jordan and the United Arab Emirates, used fighter jets, bombers and Tomahawk cruise missiles against Islamic State targets in Syria on Tuesday.
The air strikes came as world leaders gathered at the United Nations in New York to discuss how to tackle the terror group.
Iranian meeting
The PM is likely to set out "direction and options" during his speech at the UN, a government source told BBC News.
He will also meet Iranian President Hassan Rouhani in an attempt to persuade him to join action against IS militants.
It will be the first time a UK prime minister has met an Iranian president since the Iran's revolution in 1979.
Mr Cameron and Mr Rouhani spoke by phone in November, but their talks later will be their first face-to-face meeting.
BBC correspondent Nick Bryant said relations between the UK and Iran had "thawed considerably" in recent months.
"Coming at a time when the Obama administration has said Iran has a role to play in combating IS, Mr Cameron is expected to gauge what form that might take," he said.
Mr Cameron is also likely to press Mr Rouhani to withdraw support for the Assad regime in Syria - a "hard sell", Nick Bryant added.
'Tip of the iceberg'
He said Iranian officials in the US had raised the possibility of a "trade-off" under which Iran could get concessions on advancing its nuclear programme in exchange for "further action" against IS - though the US has said the two issues are entirely separate.
Shadow business secretary Chuka Umunna said any UK military intervention against IS would need to be based on three criteria - that it was within international law, there was a plan of action and a plan of what would happen after any action.
Deputy Labour leader Harriet Harman said it was "very encouraging" that other Arab states were joining in the strikes against Syria "because they are the most immediately affected".
She told BBC News: "Islamic State needs to be contained. The awful beheadings that everybody sees, they are just the tip of the iceberg, in a way, to what they're doing. They can't be allowed to just grow and grow and grow and expand their territory."
Jihadist group IS has taken control of large areas of Iraq and Syria in recent months.