Labour pledges to put 'rail passengers before profits'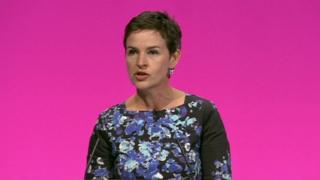 Labour has pledged to put "passengers before profit" in how the railways are run if it regains power.
Shadow transport secretary Mary Creagh told her party's conference that rail users had had enough of "secret" fare rises by operators and overcrowding.
Labour, she said, would allow state-owned firms to take on franchises, cap fare rises and give local communities more say in the operation of services.
She also promised a "swift decision" on new runway capacity after the election.
The coalition government says more investment is going into the railways than at any time since the Victorian era, underpinned by Crossrail and the proposed HS2 high-speed rail line.
But addressing delegates in Manchester, Ms Creagh said commuters had seen the cost of train travel rise by an average of 20% since 2010.
She criticised what she said were "secret fare" rises by Northern Rail and the new operator running services from London to Brighton under the new Thameslink, Southern and Great Northern super-franchise.
"A Labour government will deliver the biggest reform of the railways since privatisation to deliver a better deal for taxpayers and passengers," she said.
"We will put the passenger back at the heart of the railway, not the profit motive."
The law would be changed, she said, to allow the publicly-owned firm which took over the running of the East Coast Mainline franchise in 2009 - Directly Operated Railways - to bid for other franchises.
Public ownership
However, Labour is resisting calls from the unions for the entire rail network to be re-nationalised.
During Tuesday's debate in Manchester, Manuel Cortes - the general secretary of the Transport Salaried Staffs' Association union (TSSA) - got a standing ovation in the hall after calling for the railways, water and energy to be brought into public ownership.
The railways were publicly run in many of the world's leading economies, he said.
"I tell you if it's good for the Americans, if it's good for the Germans, if it is good for the French, it must also be good for our people," he said.
The government says it is spending £38bn on rail infrastructure to deliver new services and increase capacity on existing routes to reduce overcrowding.