Discovering the limits of surveillance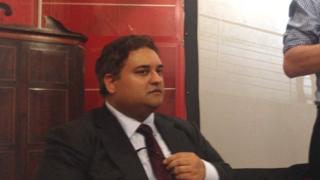 Where are the "limits of surveillance"?
For internet activists debating that very subject it was when someone in the audience started live-streaming their discussion.
The panel did not look entirely comfortable with the young man's attempt to beam the "Stop Spying On Us" debate at Manchester's Anthony Burgess Museum to a worldwide audience.
But it took Labour MEP Claude Moraes to put a stop to the recording, saying he "does not have enough money" to be sued by Google.
He went on to speak about the extent to which President Obama had been put under pressure to reform the National Security Agency by tech giants Google, Microsoft and others who were worried about reputational damage.
'Right of erasure'
He did not go that much further than what The Guardian and other media outlets reported at the time.
But you cannot be too careful. Once something is on the internet it lasts forever, as Mr Moraes knows only too well.
As chairman of the European Parliament civil liberties, justice and home affairs committee, he is leading highly controversial efforts to introduce a "right of erasure" to allow citizens to request the removal of web links.
The young man with the hand-held device looked suitably mortified when Mr Moraes asked him to stop recording. He assured everyone that he had deleted the stream.
The Labour conference fringe debate was staged by Don't Spy on Us, a new campaign, which brings together six leading lobby groups - Open Rights Group, Liberty, PEN, Big Brother Watch, Article 19 and Privacy International, to push the government to end mass surveillance.
'Crazy liberal'
Labour MP and Westminster's resident gaming geek Tom Watson told the meeting how he had not been aware of GCHQ's alleged mass surveillance of email metadata revealed by Edward Snowden when he had been a defence minister, or when he had been at the Cabinet Office.
He said his colleagues in the Labour Party were deeply suspicious of his stance on mass surveillance.
"They think I'm some kind of crazy liberal idiot rather than a patriot who really cares about citizens' freedom."
He added: "We won't have any discussion about mass surveillance at the Labour Party conference this year. It has been deemed so."
He said he had "a bit more faith in David Cameron, Nick Clegg and Ed Miliband than I probably did in my former leader Tony Blair" when it came to civil liberties" but had been badly let down.
"I thought they would have learned the lesson of the ID care debacle."
But - having said all of that - he got quite impassioned when one young man in the audience said he had given up on party politics.
'Hollowed out'
He spoke of his frustration that young, intelligent and engaged citizens like those in the Open Rights Group and other internet activists were so cynical - suggesting they should get involved, rather than sniping from the sidelines.
"I literally talk to hundreds, and know of thousands, of people who care about this issue so deeply that if they collectively organised within political parties their scale and their passion is great enough to change those political parties."
It could take as little as five years to shift the debate on privacy and surveillance within the Labour Party, he suggested.
"These parties are there for the taking now anyway. They are hollowed out from the inside. There is no one leading them...
"Well they are leading them. But from the grassroots you could actually join your local parties and change them."