West Lothian question continues to puzzle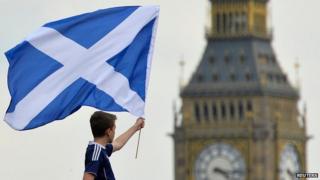 Lingering in the margins of Labour's conference on Sunday has been a simple question with a complicated answer: is the promise of further devolution to Scotland conditional on England getting the same?
Let us examine the evidence.
Early on Friday morning, a man relieved still to be prime minister of the United Kingdom stood in Downing Street and categorically linked the two issues together.
David Cameron said: "The question of English votes for English laws - the so-called West Lothian question - requires a decisive answer.
"So, just as Scotland will vote separately in the Scottish Parliament on their issues of tax, spending and welfare so too England, as well as Wales and Northern Ireland, should be able to vote on these issues and all this must take place in tandem with, and at the same pace as, the settlement for Scotland."
But what do "in tandem with" and "at the same pace as" actually mean?
Significant 'other'
Downing Street dispatched William Hague, the man who's been burdened with sorting the problem, so he could tour the airwaves and explain.
On College Green outside Parliament, my colleague Andrew Neil asked him if a lack of consensus on the West Lothian question would hold up further Scottish devolution.
Mr Hague replied: "The enactment of what we are all talking about on Scottish devolution is of course after the general election.
"Draft legislation in January, a bill to be introduced whoever wins the general election in May.
"So that is to be enacted at the beginning of the next parliament.
"I believe that we can, the country can reach a decision.
"I hope [for] a consensus among the parties but if not it can reach a decision in the general election about how we tackle these other issues related to England and Wales."
Note that word "other" in the final sentence.
It suggests that Mr Hague is quite happy for disagreements over England to be put to the general election while progress is made on devolution to Scotland.
But then let us look at what the Chief Whip Michael Gove told the Times on Saturday.
Two processes?
As ever, he seemed to know what he thought it all meant.
Mr Gove said: "It would be impossible to move forward without making sure you have changes both in Scotland and in England.
"This means that a system of English-only votes for English-only laws must be brought in before Scotland can get the devolution it wants."
From that, you might think Scottish devolution was actually conditional on progress towards English votes for English laws.
But after accusations from some that the prime minister was putting Scottish devolution at risk by linking it to change for English, Downing Street today acted to try to clear up the confusion - or at least reparse Mr Gove's words.
They said the chief whip had been misinterpreted by the paper.
They said it was always clear there were two separate processes.
The PM, they said, will keep his vow to the people of Scotland - no ifs, no buts.
When Mr Gove said it would be impossible to move forward without changes to both Scotland and England, he was making clear that the process of making the proposals should take place in tandem; he was not making the achievement of one conditional on the other.
Coffee questions
So that is the position, at least for now.
Scottish devolution is not dependent on English devolution.
But that is not what many Conservative MPs believed on Friday and believe now is the case.
For many of them, it is both or nothing.
The PM has invited the following MPs to Chequers on Monday to hear their views about this: Peter Lilley, John Redwood, Margot James, Graham Brady, Bernard Jenkin, Heather Wheeler, Dominic Grieve, Rory Stewart, Guto Bebb and James Wharton.
Some of those MPs have told me already that they were worried about the gap between the PM's tough language and what they see as William Hague's cautious equivocation on Friday.
I imagine now they will have one or two pressing questions for the prime minister over coffee on the terrace at Chequers.