Nick Clegg: Time for 'wholesale' constitutional change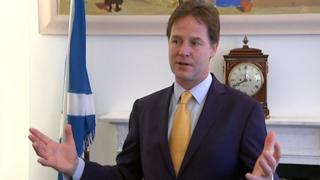 The Scottish referendum has opened the door for more powers to be devolved across the UK, Nick Clegg has said.
The deputy prime minister said the historic event presented an opportunity for "wholesale" constitutional renewal.
Mr Clegg said the "missing bit of the jigsaw" - England - must be addressed, having been governed in "an excessively centralised way" for too long.
The Lib Dem leader also called for more devolution to Wales and a strengthening of devolution in Northern Ireland.
"We must move towards a situation where the clammy grip of Whitehall and Westminster is released so that communities, families, cities, towns and villages across the United Kingdom feel that they have more say over their own destiny than is currently the case," Mr Clegg argued.
Mr Clegg was reflecting on the outcome of the Scottish independence referendum, which saw Scotland vote decisively to stay in the United Kingdom.
'Wider clamour'
The "No" side won with 2,001,926 votes compared with 1,617,989 for "Yes" in the referendum held on Thursday.
Talks will now begin on devolving more powers to Scotland, following pledges by the leaders of the UK's three largest parties.
Prime Minister David Cameron has said there will also be greater devolution for England.
Welcoming the outcome of the "ferociously-contested" poll, Mr Clegg said the voters had shown their support for "unity, not separatism, to stand together and not to fall apart".
He stressed that everybody must now come together to shape Scotland's "exciting new chapter", underlining the importance of it being "co-authored by the people, not just by the politicians".
But Mr Clegg also noted that the referendum had given way to a "much wider clamour" across the rest of the UK for greater powers to be vested in local towns and cities.
"It's been remarkable… that people south of the border have heard the debate taking place north of the border and said: 'Well absolutely, if power and control is going to be devolved across the UK we also want to take more responsibility for our own affairs' - and they're quite right to.
"That's why we must now, as we also enter into this very exciting new chapter of more devolved powers in Scotland, we must also proceed further with devolution to Wales... strengthen devolution in Northern Ireland, and crucially we must address this huge missing bit of the jigsaw which is England - the governance of England."
The English question
A timetable for new powers for Scotland has been agreed by David Cameron, Ed Miliband and Nick Clegg, with draft legislation due to be published in January 2015.
Speaking to local activists in Edinburgh, Mr Clegg said that while a clear timetable had been set out, decisions must now be made about "how that then translates into new voting arrangements in Westminster."
However, the proposed transfer of powers to the Scottish Parliament has added to pressure from some MPs who want an end to the anomaly that allows Scottish MPs to vote on England-only issues.
Mr Cameron has asked the leader of the Commons, William Hague, to draw up plans for what would be a fundamental change at Westminster - that only English MPs could vote on English matters.
Mr Clegg said: "I think it is essential on all major constitutional issues we should always try ... and proceed on a cross-party basis and that is, as the prime minister has confirmed this morning, what we should do.
"These are major constitutional issues - they shouldn't be the play things of one individual party or another."