Farmers urge ministers: 'Work with us'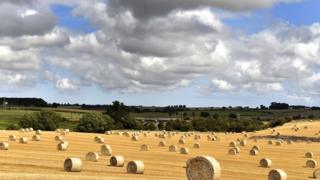 Farmers are calling on the next government to give agriculture a boost at the 2015 general election with a list of demands to increase food production and help business.
The National Union of Farmers has urged all parties to work with them to reduce reliance on imported produce.
Calls include increasing speed limits for tractors on public roads.
NFU president Meurig Raymond said: "What is needed now is a government that understands farming."
Unveiling the NFU's 2015 election manifesto, Mr Raymond, a Welsh farmer, said British farming:
provided 60% of the food we ate
was the UK's largest manufacturing sector
protected the nation's countryside and wildlife
Faster broadband
But he stressed that farmers faced "major challenges" to increase food production and to better care for the environment.
"I want the next government to work with the NFU to set an agenda for growth, for profitable production that fosters the breadth of farm businesses from food to renewable energy and environmental services by building on the professionalism and confidence of British farmers," he said.
"By backing British farming and working together, we have a unique opportunity to increase food production by supporting research, investment and growth."
Among its demands, the NFU calls for the next government to negotiate with the EU to reduce environmental restrictions imposed on farmers as part of the Common Agricultural Policy.
It urges promotion of the Britain is Great campaign for British produce to open up export markets, and a seasonal labour scheme to be introduced to students from outside the EU to undertake harvest work on UK farms.
And the NFU, which represents 55,000 farmers across England and Wales, argues that "urgent action must be taken" to tackle bovine TB to stop it spreading into new regions and becoming endemic nationwide.
Farmers also want an accelerated rollout of high-speed broadband to all rural areas and to emphasise that "environment and climate change policy needs to go hand in hand with growth in production".