Power to the English people?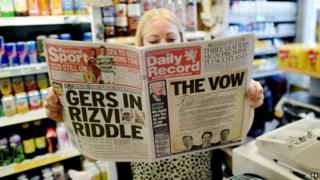 The leaders of the biggest parties at Westminster have promised "extensive" new powers for Scotland if there's a no vote in the referendum.
Some English MPs aren't happy.
One Tory backbencher - Christopher Chope - says that promise is subject to the will of Parliament.
---
So will English MPs try to block new powers for Scotland?
They might. But many of the dissenters are more concerned about making sure England gets its own share of devolution. Existing laws mean the Scottish Parliament is already set to get new powers to set income tax in 2016. Any new deal would add to that. They argue it's England's turn.
---
Does that mean building a new English Parliament?
It's very unlikely. The Conservative John Redwood said the House of Commons could do the job. English MPs would meet, he suggests, on English only issues. Other members want to give councils more control over taxes. Plenty think the leaders will have a problem getting their way without change in England.
---
Is this only backbenchers?
No. David Cameron said the country was "not remotely" at the stage of considering an English Parliament, but political leaders have long accepted there is a problem when Scottish MPs vote on England only matters. The 2010 Conservative manifesto pledged new rules so legislation referring specifically to England could not be enacted without the consent of English MPs. Nick Clegg has said it's time to devolve power to English cities.
---
How cross are MPs?
Some are keeping quiet for fear of damaging the no campaign, but in private over a drink or on the phone, they warn of trouble ahead if there is no change in England. MPs could become "very awkward" said one Tory. Labour would grow "very isolated" if it didn't offer extra powers, says an opposition backbencher. But three leaders acting in concert, with the help of their whips and the combined numbers of their loyal front benchers, will be pretty confident they can get their way.
---
What about Wales?
The Welsh First Minister Carwyn Jones has called for a constitutional convention after the referendum to look again at the way all the nations of the UK are governed. Plaid Cymru says funding arrangements mean Wales loses out.
---
When will the final decision be made?
We don't know. The leaders have promised draft laws by the end of January. But they admit a bill might not be passed into law before the general election. And it's not only MPs who matter. A new law would have to go through the House of Lords too.
---
So what happens if this isn't done before the election?
New MPs and maybe new leaders would make the final decision. At the start of August the London mayor Boris Johnson told the Evening Standard he did not understand why - back then - the Scots were being promised more tax raising powers. He was making the case for English devolution. He's not even an MP, let alone a leader. But the views of potential successors for all three of the big parties at Westminster will be probed.
---