Cameron hints at plan for English MP powers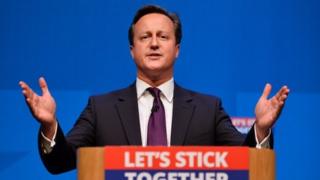 David Cameron has ruled out creating an English Parliament but hinted that English MPs could get the final say on laws affecting England only.
With more powers promised for Holyrood in the event of a "No" vote in Scotland, the PM is facing demands for a separate governing body for England.
Senior Tory MPs want an end to the anomaly that allows Scottish MPs to vote on England-only issues.
Mr Cameron has acknowledged the problem will need to be addressed.
He suggested the government had a plan - as set out in last year's McKay commission report - on how MPs should deal with legislation that affects only part of the UK but it was not "remotely near" creating an English Parliament.
Instead, Commons committees considering England-only legislation would be staffed by MPs representing English constituencies.
'Extra power'
Mr Cameron said ministers had avoided talking about the issue because they wanted to concentrate on campaigning for a "No" vote in Thursday's Scottish independence referendum.
"It's not something we've set out because today we're talking about the extra power the Scottish government will get," Mr Cameron told BBC Radio 5 live's Pienaar's Politics.
"But this government has published the McKay Commission to set out our approach to these issues.
"The key thing this week is for people to understand if they vote 'no', that's not no change. They get a stronger Scottish parliament with stronger powers. That's what it's about."
The "Yes" campaign argues that the only way to guarantee more powers for Scotland is to vote for independence.
But with the opinion polls tightening, and the prospect of the break-up of the UK appearing a real possibility, the three main UK parties have promised substantial extra powers for Scotland if the country votes "No" on Thursday.
They each have a different list of powers that would be devolved but all say they would hand more control over tax and spending to the Scottish Parliament - and draft legislation to make it happen is promised.
This has been met with dismay by backbench Conservative MPs, who are demanding an English Parliament.
'Unravel'
John Redwood told BBC Radio 5 live: "If you are going to give tax powers to Scotland and to Wales, England will want exactly the same tax powers and we will want our own Parliament.
"And the simplest and cheapest way of doing that is that people elected as Westminster MPs, for English constituencies, can do an extra job and meet as an English Parliament and choose our tax rates to complement those that the Scottish Parliament has chosen."
And Christopher Chope said it was by no means certain that the UK Parliament would approve the transfer of any further powers to Holyrood.
He suggested the proposals put forward were merely "expressions of opinion" by the party leaders and did not constitute government policy nor reflect the settled will of Parliament.
"Voters in Scotland should recognise this is a pledge in inverted commas by parties and party leaders but that is not a guarantee that that would be implemented in the UK Parliament," he said.
Former Labour cabinet minister Peter Hain said creating an English Parliament would "unravel the whole of the UK" because "four out of five MPs at Westminster are from England".
'English-only'
He backed calls by former Lib Dem leader Sir Menzies Campbell for the UK to be transformed into a federal state.
Labour and the Liberal Democrats have both distanced themselves from the idea of an English Parliament, using the debate instead to push for "devolution" of the English regions, with tax and spending powers handed to beefed-up city regions.
Bernard Jenkin, Conservative chairman of the Commons Public Administration Committee, backed Mr Redwood's call for an English Parliament, but said, in a letter to the Times, that it would require a wider reorganisation of the civil service to make it work.
"We could never have a Scottish UK Chancellor setting English taxes in England at the annual Budget but not in his or her own constituency.
"So Parliament will have to consider how to establish an English executive, with an English first minister and finance minister, along with England-only departments for matters such as health, education and local government, made accountable to English MPs alone."
'Fudge'
The McKay Commission, chaired by former House of Commons clerk Sir William McKay, said decisions affecting England "should normally be taken only with the consent of a majority of MPs for constituencies in England (or England-and-Wales)".
But it ruled out an English Parliament, saying Scottish MPs would also be allowed to vote on issues affecting England to avoid creating two different classes of MP and provoking "deadlock between the UK government and the majority of MPs in England".
Instead, English MPs should have the majority on committees considering laws affecting England only.
The report was dismissed by critics at the time as a "fudge" - and the detailed response promised in March 2013 by the Cabinet Office has yet to materialise.
Speaking in the House of Commons in July, Deputy Prime Minister Nick Clegg said the government was still considering the McKay report "in detail", adding: "If this question were so straightforward to sort out, I suspect someone would have done it a long time ago."