Scottish independence: London rally for 'No' vote campaigners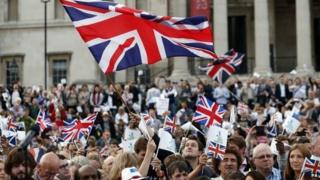 Pro-union campaigners have taken part in a rally in central London in support of Scotland remaining part of the UK after Thursday's referendum.
Speakers at the event, organised by TV historian Dan Snow, included anti-poverty campaigner Bob Geldof alongside comedians Eddie Izzard and Al Murray.
Organisers from Let's Stay Together said around 5,000 people attended.
Among the crowd in Trafalgar Square was Deputy Prime Minister Nick Clegg and cabinet minister Michael Gove.
Supporters of the No campaign waved Union and Saltire flags.
On Thursday, voters in Scotland will be asked: "Should Scotland be an independent country?"
The latest polls suggest the vote remains too close to call.
Scotland's First Minister, Alex Salmond, used an event at Edinburgh Airport to hit out at the "scaremongering" of the "No" campaign. He argues that Scotland would be better off and better governed as an independent country.
But, at the Trafalgar Square event, Mr Snow said it was time for the people of the UK to "renew their bonds of citizenship".
Mr Geldof said the whole country, not just Scotland, was disillusioned with Westminster, adding: "This argument needs to be had amongst us all. You can't just selfishly resolve it unto yourself by taking an easy opt-out clause."
And Mr Izzard, a Labour supporter who has been a strong supporter of Mr Snow's Let's Stay Together Campaign, said: "We would really love you to stay with us. You will make your own decisions. It's totally up to you but if you vote 'No, thank you' then you will get more powers. So why not try it rather than separating from us forever."
People resident in Scotland and aged 16 and over are able to vote on Thursday.
Both sides will continue to campaign on Tuesday and Wednesday.