Passport delay victims deserve refund, say MPs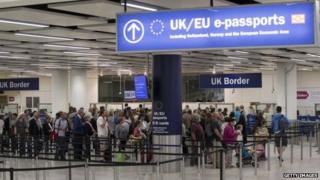 Passport applicants who paid more than £30 extra for a "fast-track" service in an attempt to avoid processing delays should get refunds, MPs have said.
At one point in early summer, the number of outstanding requests went above half a million.
The Home Affairs Committee said some people who used the Passport Office's faster service to avoid being unable to travel had been "exploited".
The government blamed a surge in demand and said the situation had improved.
It added that it was working to ensure the delays were not repeated.
Problems with passport applications, due to what ministers called "exceptional demand", came to public attention in the summer. At its peak in late June, the number of outstanding applications reached 537,663.
To ensure this situation did not disrupt summer holiday travel, the Passport Office took on extra staff, extended opening hours, increased overtime and redeployed workers from elsewhere.
---
British adult passport costs
Normal service - £72.50
Check & Send - Post Office staff check application correct and it is sent by Special Delivery - £81.25
Fast-Track - Applicant attends Passport Office in person and passport delivered within one week - £103
Premium - Passport available for collection on same day applicant attends Passport Office - £128
---
In mid-June it announced that - for people who could prove they were booked to travel within seven days and had submitted passport applications more than three weeks earlier - there would be a free upgrade to its fast-track service. This promises delivery within a week.
The cost would normally be £103, compared with £72.50 for the standard service. Some 16,000 people were given a free upgrade by late July.
The committee welcomed this move but criticised the government for not including those who had suffered delays earlier in the summer and had had to pay the extra themselves.
It suggested setting an earlier cut-off point, with those upgrading to the fast-track service as early as 1 May being refunded their extra costs.
The committee's chairman, Labour MP Keith Vaz, said: "The state should not be exploiting its own citizens by making a profit on what is a basic right. A British passport, an essential document for travel by British citizens, had become the subject of emergency statements and crisis management."
He said there had been a "complete management failure at the highest levels" of the Passport Office, calling it "scandalous that bonuses of £674,000 have been awarded during this period. The management of this organisation would be unlikely to survive to the final round of The Apprentice."
The Passport Office has since cut the number of outstanding applications to around 90,000, but the report said: "A number of people have ended up out-of-pocket due to HMPO's inability to meet its service standard."
---
One couple's experience
Penny and Dave Parry say they were forced to spend more than £600 to renew their passports in time for them to go on their honeymoon.
The couple, from Runcorn in Cheshire, applied for the £103 fast-track service in early June so they could travel to Amsterdam in July.
But when they contacted their local passport office in Liverpool, they were told there were no face-to-face appointments and they would have to travel down to London.
"They said they were dealing with a backlog and there was a huge queue," Penny says.
The couple had to take a day off work to travel to London, paying £125 each for their train fares as well as the cost of meals and other travel expenses.
"When we went down to London, the guy behind the counter said he could not believe we had come all the way down from Runcorn," she adds.
To add to their problems, the Passport Office said it could not accept a deed poll confirming her husband's change of name 10 years previously and they had to pay £100 to a solicitor to draw up additional paperwork.
While Penny got her new passport the same day, her husband only received his shortly before they were due to leave. Despite filling in a complaint form, they have yet to hear back.
---
The Passport Office was established as an executive agency of the Home Office in May last year. The committee said it should lose its agency status and be brought back under direct ministerial control "following this appalling series of failures".
For Labour, shadow immigration minister David Hanson said: "This damning report rightly exposes David Cameron's government's complacency and incompetence in allowing the passport crisis to spiral out of control this summer.
"Ultimately ministers have to take responsibility and admit it was their mistakes that led to the crisis, and that their response simply wasn't good enough."
'Unprecedented demand'
But Immigration Minister James Brokenshire said the Passport Office had "faced unprecedented demand in 2014", adding: "Over five million passports have been issued so far this year.
"In response to this significant increase in demand the home secretary introduced a series of measures to ensure that passports could be received by people in time for them to travel on their summer holidays.
"This action has had a significant impact, reducing HMPO's outstanding number of applications from a peak of nearly 550,000 in June to around 90,000 today."
Mr Brokenshire added: "Clearly this is little comfort for those who experienced delays and we need to make sure there is no repeat of the problems experienced this year."
The government has commissioned two reviews of the Passport Office, which Mr Brokenshire said would "ensure it is working as effectively as possible".