Ian Paisley: the Dr No who became Dr Yes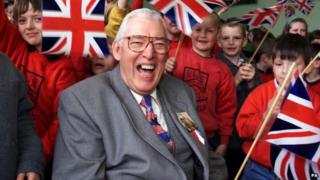 Loved and loathed, admired and feared, the life of the man known simply as "Big Ian" is the story of Northern Ireland's transition from violence to peace.
Some will remember him for a single word - "Never!" - rarely spoken, usually bellowed.
They will recall the image of a political leader and man of God standing at the top of a hill surrounded by hundreds of men waving gun licences.
He was, for years, the symbol of Unionist defiance and, occasionally, menace.
Others will reflect, instead, on what was to become a routine but nonetheless extraordinary sight.
The sight of him sharing a smile and a laugh with the man who had been his bitter enemy - Sinn Fein's Martin McGuiness.
In Stormont - the power-sharing executive both had tried to block and then destroy - they became known as the "chuckle brothers".
There was a gulf between the private Paisley and the public figure. I once met him on a plane where he was studying his book of daily scripture readings. He was so softly spoken I could barely hear a word he said.
Once we landed he was confronted by another reporter with a camera. He screamed defiance into the lens and then turned round, looked at me and winked.
Political leaders came to value his candour and his wisdom - the man who was transformed from Dr No to Dr Yes.