Restaurant staff should decide who gets tips says MP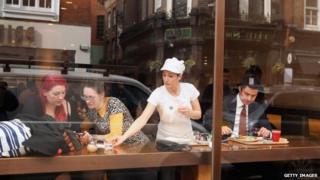 Restaurant staff should decide how tips are shared out to stop employers "creaming them off", an MP has said.
Andrew Percy said customers were totally confused about where their money went if they decided to leave a tip or pay an optional service charge.
Many firms, he said, were ignoring a voluntary code encouraging them to make their tipping policies clear.
The British Hospitality Association said restaurants should be upfront with customers about their approach.
Proposing a change in the law in the House of Commons, the Conservative MP for Brigg and Goole said existing rules, which leave it up to restaurants decide whether to add a service charge to a bill and what to do with the money, were "neither clear nor transparent".
Customers only have to pay a service charge if the trader makes this clear before the meal, either on the menu or verbally, although many choose to do so anyway.
While cash tips are paid to individual employees, credit card tips are paid to the restaurant.
Although people believed a cash tip was more likely to go directly to staff, Mr Percy said employees "often did not receive all of the money the customer is trying to give to them".
'State of confusion'
While there were examples of good practice in the leisure industry, he said many popular businesses were ignoring or "abusing" a 2009 voluntary code designed to give customers clear information about their tipping and charging policies to enable them to make an informed choice.
He said the guidance should be mandatory, with waiters and kitchen staff able to decide how tips are shared out rather than it being decided by the company or the manager of an individual outlet.
This, he said, would "protect the rights of employees" and be good for staff morale.
Mr Percy said there should also be a cap on the administration fees that firms can charge for tips paid by credit card.
Some companies charge between 8% and 10%, arguing they need to recover the cost of operating a tronc - a pool of funds used to distribute tips, gratuities and service charges and to comply with tax liabilities.
'Written note'
But Mr Percy said a firm's margin should be "built into the cost of the food you are buying and a business should not be existing because it is able to cream off service charges or tips".
The British Hospitality Association said there was no legal requirement for restaurants to allocate a particular share of their service charge or tip income to employees.
But the organisation said it was in their interests to be as open as possible with customers, including about the amount of money deducted for handling credit card transactions, payroll processing and other costs.
"Restaurants should disclose to customers how they deal with discretionary service charge and non-cash tips, at least by a written note available for inspection at each restaurant and on the restaurant's website, if there is one," said BHA deputy chief executive Martin Couchman
"This disclosure should cover three key areas - whether an amount is deducted for handling costs; how the remainder is shared between the restaurant and the employees; and the broad process for distribution, for example, that they are shared between the employees in the restaurant through a system controlled by a representative of the employees."
MPs agreed to consider Mr Percy's ten-minute rule bill in October but it is very unlikely to become law. Such bills are generally used as a way to raise an issue and generate publicity.