MPs asked for whereabouts during conference recess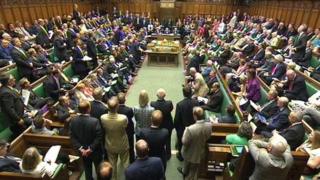 Government whips have asked MPs for an urgent update of where they will be during the upcoming recess, in what may be initial planning for a recall of Parliament, the BBC understands.
MPs will leave Westminster on 12 September and are not scheduled to return until 13 October, after the end of the annual party conference season.
During this period, Scotland will vote on whether to remain in the UK.
And world leaders will also meet to discuss events in Iraq and Syria.
The UK government has said it has not ruled out joining in air strikes against militants from the Islamic State group.
In recent days, MPs have been seeking assurances that Parliament will be consulted in such a situation.
As part of an information-gathering exercise by government whips, MPs have been asked what their journey time to London will be during the conference recess.
Such an exercise is unusual at this stage, the BBC understands.
Labour, the Conservatives and the Lib Dems will all hold their annual autumn gatherings over the next month, a period when the House of Commons does not traditionally sit.
US President Barack Obama will chair a special meeting of the UN Security Council later this month on tackling the surge of foreign fighters in Iraq and Syria.