Government must beef up contract management, says watchdog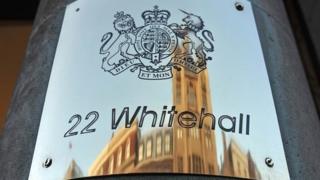 Government contracts with firms such as G4S and Serco go wrong because managing them is not taken seriously enough in Whitehall, according to a report.
Officials in charge of handling contracts have far lower status and pay than their private sector equivalents, a National Audit Office study found.
This leaves civil servants at a "permanent disadvantage", it said.
The Cabinet Office says it takes a more "hard-hitting" approach to contractors than the previous government.
The NAO launched an inquiry into the way government contracts were handled after it emerged security giant G4S had overcharged for tagging criminals in England and Wales.
Overcharging by G4S and rival Serco amounted to tens of millions of pounds - the two firms are now the subject of a Serious Fraud Office investigation.
'Lacked sway'
In a report on the handling of these contracts, the NAO praised the Ministry of Justice for making improvements to the way it handled contracts with suppliers in the wake of the scandal but said more work was needed.
Separately, the spending watchdog published an in-depth analysis of how £40bn worth of contracts were handled across 17 government departments.
It found senior managers did not take contract management seriously enough and tended to think their responsibility ended when the contract was signed, instead of monitoring the performance of suppliers and trying to extract better value for money.
The watchdog suggested government has a "permanent disadvantage" in commercial capability because procurement was traditionally a "low-status profession" in the civil service, with contract management even lower.
'Business-like approach'
"The profession has lacked the sway over colleagues to implement good practice, and struggled to attract the best talent and skills," says the report.
"Furthermore, without a way to measure the value of this deployment, contract management has been vulnerable to administration cuts and under‑investment.
"Yet it is doubtful that the government can improve its capability to be able to have the best contract managers on all its contracts.
"It will not pay either to bring in or retain commercial experts to match the combined expertise of its contractors."
Amyas Morse, head of the National Audit Office, said the government had to "build up the commercial skills of contract management staff, both in departments and in the centre, and enhance the status and profile of their role".
But he added: "Current reforms are going in the right direction and government is taking the issue seriously."
The government said it had done more than any other to improve the commercial knowhow of its officials, including appointing a government chief procurement officer and bringing in experts from the private sector.
A Cabinet Office spokesman said: "The NAO acknowledge our work to overhaul government's commercial activities which saved taxpayers £5.4bn last year alone, against a 2009-10 baseline.
"Compared to 2010, when there was no central grip on procurement, we are now taking a hard-hitting business-like approach to managing contracts with suppliers."
Margaret Hodge, chairman of the Commons public accounts committee, said: "With so much taxpayers' money at stake, departments must urgently put an end to the 'out of sight, out of mind' mentality that has led them to be in this weakened position before even more taxpayers' money is wasted."