Tories to use open primary to choose Clacton candidate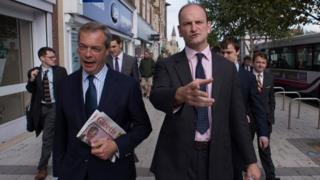 The Conservative Party is to hold an open primary in Clacton to select a candidate to take on UKIP defector Douglas Carswell.
That means anyone in Clacton, no matter which party they support, can have a say in choosing the Tory candidate.
Mr Carswell, a keen supporter of open primaries, resigned as Clacton's Tory MP and is standing as a UKIP candidate in the by-election on 9 October.
Totnes Tory MP Sarah Wollaston was selected via an open primary.
Every registered voter in the Clacton constituency will be invited to register to attend a public meeting next Thursday, at which the Conservative candidate will be selected.
The party is inviting members of the public to put themselves forward as potential candidates - they do not have to be Conservative Party members to apply.
'Crucial'
Labour has selected Essex county councillor Tim Young to contest the seat. The Lib Dems and the Green Party have yet to choose a candidate.
Simon Martin-Redman, chairman of Clacton Conservative Association, told The Clacton Gazette: "At the moment, the party is still interviewing potential candidates and a list of names will come to the local party.
"The shortlist put to the meeting will have a maximum of four names - and we will be giving people choices."
He added: "We believe it's crucial because it is such an important decision, not just for the Conservative association, but for everyone in the constituency.
"Douglas Carswell himself proposed open primaries in the past to bring democracy into the process."
Primary-goers will be able to choose from a shortlist of candidates, who will address the audience, with the final decision expected to be made at the meeting. The process will be paid for by The Conservative Party.
Sarah Wollaston has been hailed by supporters of open primaries, including Mr Carswell, as an example of why the system is better than candidates being selected behind closed doors by local party members.
The independent-minded MP, who now chairs the health select committee, was chosen through an all-postal ballot in 2009.
Other open primaries held by the Conservatives before the 2010 general election saw voters turn up at a public meeting to choose their preferred candidate.
The coalition government promised to fund 200 all-postal primaries "targeted at seats which have not changed hands for many years" but the idea appears to have been shelved by ministers.