Liam Fox urges air strikes against Islamic State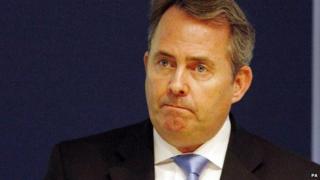 Former Defence Secretary Liam Fox has said the UK should be prepared to launch air strikes against Islamic State "sooner rather than later".
The Conservative MP said the group should be tackled "in any way we can", including disrupting supply lines and destroying bases in Iraq and Syria.
If necessary, the UK should use "lethal force" against extremists, he added.
IS extremists have threatened to kill a British hostage, following the beheading of two US citizens.
Prime Minister David Cameron has said the UK "will not waver" in fighting terrorism and that "every possible option" will be considered to prevent the man, who has not been named, being killed.
The US has launched more than 120 air strikes in Iraq in the past month, in an attempt to help Kurdish forces curb the advance of IS militants.
'Potential export'
The extreme Sunni group has seized large areas in Iraq and Syria in recent months, declaring a new caliphate, or Islamic state.
But the UK has not taken military action against IS so far, although Mr Cameron refused to rule out the possibility earlier this week.
Speaking to the BBC, Mr Fox said IS had formed a "potential export centre of Jihad".
Military power should be used to "destroy their bases whether they are in Iraq or in Syria", he said, adding: "To that end I think we should be joining with the United States in air strikes on their bases to diminish their military capability so that the countries who are our allies are able to deal with them more effectively on their own."
Mr Fox said IS did not differentiate between US and British hostages, adding: "Politicians do need to understand there are people out there who hate us because of who we are not because of what we do, and we have to if necessary use lethal force against them."
Asked if the UK response so far went far enough, he said President Obama had "come to the conclusion there had to be military action" because "countries in the region don't have the air power to do that. I think that's the correct decision by the United States and I think that's the decision we should come to sooner rather than later."
IS extremists threatened to kill a the British hostage in a video showing the beheading of US journalist Steven Sotloff. A video posted online two weeks ago showed the killing of another US journalist, James Foley.