GQ defends Tony Blair 'philanthropist of the year' award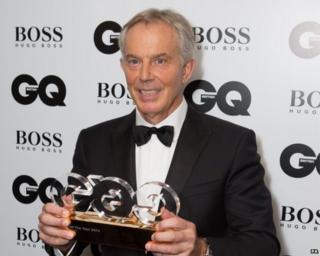 GQ magazine has defended its decision to give former Prime Minister Tony Blair its "philanthropist of the year" award after criticism from MPs.
Awards producer Richard Dodgson told BBC Radio 5 live the magazine liked to have celebrities at the event who "cause a bit of a stir".
But he said Mr Blair deserved the award for the work his Faith Foundation had done in developing countries.
Labour MP John Mann said "it sends out the wrong message".
Mr Blair accepted the award from Banke Adetayo, an employee of his Faith Foundation, at a glitzy ceremony at the Royal Opera House, hosted by GQ editor Dylan Jones.
In his acceptance speech, the former Labour leader said: "I would like to dedicate this award to the people who work with my organisations. I feel the pulse of progress beating a little harder."
'Jaw-dropping'
In a tribute to Mr Blair on its website, GQ said: "Alongside his role as a Middle East peace envoy, Blair's channelled his energy into philanthropy, establishing three charities.
"The Tony Blair Sports Foundation pairs volunteer sport coaches with children in Britain's North East and his Faith Foundation aims to reconcile the three Abrahamic faiths, but his most ambitious is the Tony Blair Africa Governance Initiative.
"Launched in 2008, the foundation operates in six African countries... where teams work alongside government bodies to bridge the gap between African leaders' visions for a better future and their government's ability to implement it.
"In Sierra Leone, for example, AGI has helped deliver an entirely free healthcare programme that's cut the number of children in hospital dying from malaria by 80%."
But the award was met with a mix of anger and bemusement on Twitter, with BBC Match of the Day presenter Gary Lineker saying: "Finally these awards have grasped irony?"
MPs also joined in the criticism, with Labour backbencher John Mann saying: "It sends the wrong message. This sort of award should go to an unsung hero who has given up their time for charity."
Conservative backbencher Charlie Elphicke told Mailonline it was "jaw-dropping" that Mr Blair had received the award, given his role as an adviser to Khazakhstan President Nursultan Nazarbayev, whose government is alleged to have killed unarmed civilians at a striking oil workers protest in 2011.
Richard Dodgson, who organised the event for GQ, said the magazine liked to give awards to people who grabbed the headlines.
"We like to to have celebrities at our event who cause a bit of a stir. So having Tony was fantastic. We like to have people who have opinions and are forthright," he told BBC Radio 5 live.
Former Beatle Ringo Starr was also at the awards dinner, to pick up a Humanitarian of the Year prize for his work with film director David Lynch's charity, which helps abused children and war veterans with post-traumatic stress through transcendental meditation.
Reality TV star and socialite Kim Kardashian was crowned Woman of the Year.
Scotland's First Minister Alex Salmond was awarded politician of the year but did not attend the ceremony.