Sir Tony Baldry to stand down as MP after 32 years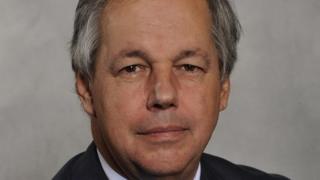 Tory MP Sir Tony Baldry is to leave Parliament at the next election after more than 30 years in the Commons.
The MP for Banbury will not contest his seat in 2015, joining a growing list of MPs from all parties stepping down.
First elected in 1983, Sir Tony held a number of junior ministerial roles in John Major's government.
Since 2010, he has been Second Church Estates Commissioner, speaking on behalf of the Church of England in the House of Commons.
Sir Tony, one of the longest-serving Conservative MPs in the House of Commons, held his Oxfordshire seat in 2010 with a majority of more than 18,000.
'Careful thought'
Between 1990 and 1997, he was a minister at the Department of Energy, Department for Environment and the Foreign Office.
The 64-year old was not given a ministerial job by David Cameron in 2010.
As Second Church Estates Commissioner, Sir Tony answers questions from MPs about Church of England matters, and steered Church of England legislation through the House of Commons.
The MP, who was knighted in 2012, is a lay member of the Church of England.
He said he had decided to step down after "careful thought" and discussing the issue with his family.
"One of the consequences of now having five year fixed-term parliaments is that, if I succeed in being re-elected at the forthcoming general election, given my age, most people will assume that parliament will be my last," he said in a statement.
"I think this creates a danger that I may be unable to be as effective as I would wish to be; and that the constituency will be distracted from more important issues by the need to choose my successor."
More than 65 MPs, 10% of the total, have said they will stand down at the next election. They include nine who were first elected in 2010.