UKIP's Clacton poll lead played down by Michael Fallon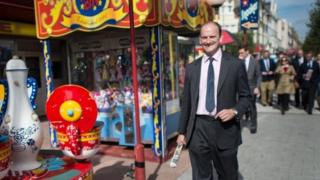 A Tory minister has played down a poll suggesting his party will suffer a resounding defeat at the hands of UKIP in the Clacton by-election.
Defence Secretary Michael Fallon put UKIP's 4 point lead down to the publicity surrounding Douglas Carswell's defection to the party.
Mr Carswell quit as Tory MP for Clacton on Friday and said he would seek re-election as a UKIP candidate.
The poll gave UKIP 64%, the Tories 20%, Labour 13% and Lib Dems 2%.
The Conservatives are thought to want to push ahead with an early by-election, with newspaper reports suggesting it could be held on 9 October - a week after David Cameron's party conference speech in Birmingham.
The party has yet to select a candidate to take on Mr Carswell, who is defending a 12,000 majority.
A Survation poll for the Mail on Sunday suggested he or she will face a struggle to avoid a humiliating defeat.
'Publicity boost'
In a sign of Mr Carswell's popularity in the Essex seaside constituency, 34% of those indicating they would vote UKIP said it was because they liked their former Conservative MP, while 57% said it was because they liked UKIP and 9% said it would be a protest vote.
Among Conservative voters, 49% said Mr Carswell was a "hero" despite his defection to a rival party, with just 17% saying he was a traitor.
More than half of all those questioned favoured quitting the European Union, with 54% supporting a British exit and 26% opposed to cutting ties to Brussels.
The poll of 700 voters followed Mr Carswell's defection last week.
Asked by Sky News' Dermot Murnaghan if the Conservatives might as well give up on Clacton, Mr Fallon said: "No. He has had a lot of publicity through his defection and it is obviously disappointing.
"But it is also not very logical. He stood for election last time when there wasn't a referendum pledge and now there is a referendum pledge he has decided to leave."
Mr Fallon ruled out an electoral pact with UKIP at next year's general election, adding: "I think people see the bigger point here. The only prospect of delivering an in/out referendum is a clear Conservative majority at the next election.
"Anything else and you will end up with a Miliband government which wants no change at all in Europe."
'Double or quits'
UKIP leader Nigel Farage told The Sun on Sunday a victory for his party in the Clacton by-election would create a "landslide in British politics", but added: "If we lose, then selling ourselves as a party that can win a significant number of seats will get a lot harder."
He told the newspaper: "If Douglas wins this by-election, then there will be more and more people coming over to us. We could end up holding the balance of power by next May."
That was "utterly dependent" on the Clacton result, he said, but added: "I'm going to keep playing double or quits until I lose. But if I win three more hands, we'll be out of the EU and a free country again.
"There is a massive appetite out there for change."
Mr Carswell said he had decided to defect to UKIP because he did not believe Mr Cameron was "serious" about reforming Britain's relationship with Europe.
The prime minister described his decision as "bizarre" and "counterproductive".