Cameron considers ban on UK jihadists returning home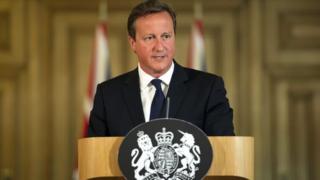 British-born jihadists in Iraq and Syria could be temporarily banned from returning to the UK under plans being considered by the government.
The BBC understands UK nationals suspected of being involved in terror acts would be allowed to keep their British citizenship.
But they would be prevented from re-entering the UK for a period of time.
David Cameron will set out plans to counter the threat posed by Islamic State militants to MPs on Monday.
At least 500 people from the UK are thought to have gone to fight in Syria, although ministers say they do not know the exact number.
The number of people arrested in the UK for Syria-related activity stands at 69, according to a recent briefing by senior police officers.
In his statement the prime minister is also expected to announce plans to make it easier to seize the passports of would-be terrorists travelling abroad.
'Illegal'
A government source told BBC News: "The government is considering a range of measures to keep the country safe in the face of an increased threat level from Islamist extremism.
"The areas include making it harder for potential foreign fighters to travel abroad by making it easier to remove their passports through additional temporary seizure powers at the border.
"We are also looking at stopping British citizens from re-entering the country if they are suspected of terrorist activity abroad.
"Previously, our range of powers to prevent return to the UK applied only to foreign nationals, dual nationals or naturalised citizens."
The government source confirmed "details of the package are being finalised" and would be announced by the prime minister in a Commons statement on Monday.
But former Lib Dem leader Sir Menzies Campbell said a temporary ban on British citizens re-entering the country may be illegal.
Sir Menzies told BBC Radio 4's The World This Weekend: "I think it's rather difficult and it might well constitute illegality. To render citizens stateless is regarded as illegal in international law.
"To render them stateless temporarily, which seems to me the purpose of what's being proposed, can also I think be described as illegal.
"At the very least it's the kind of question that will be tested here in our own courts and perhaps also in the European Court of Human Rights."
Mr Cameron is also likely to consider strengthening terrorism prevention and investigation measures - or Tpims - which were the coalition's replacement for control orders.
However, the Liberal Democrats have said they would only agree to policies that were made calmly, on the basis of evidence and that maintained the liberty of British citizens.
Threat level
The home secretary already has the power - under the Royal Prerogative - to withhold a passport if it is in the public interest to stop somebody travelling.
The UK's terror threat level was raised to "severe" from "substantial" on Friday in response to the deepening conflict in Iraq and Syria.
The new alert level rates the risk of an attack on the UK as "highly likely", although Downing Street said there was no evidence to suggest one is "imminent".
The rating is the second highest of five possible UK threat levels and is the highest since 2011.
Labour leader Ed Miliband has suggested the introduction of a "mandatory programme" of deradicalisation for people "drawn into the fringes of extremism".
Writing in the Independent, he also urged the government to revisit the decision to scrap the control orders regime for terror suspects.
'Better prepared'
Former Liberal Democrat leader Lord Ashdown has accused Conservative ministers of a "kneejerk" reaction to the terrorism threat from extremists.
He told The Observer the biggest threat was not returning jihadists but "a widening religious war which threatens, not just to engulf the Middle East and change its borders, but to spread across the entire global Islamic community".
---
---
Defence Secretary Michael Fallon said new measures to tackle the raised threat of terrorism in the UK were "not a knee jerk reaction", but were needed to deal with "some gaps" in "our current armoury".
Speaking on Sky News, Mr Fallon said the government was looking at "what more we can do to tighten up their movement in and out of Syria," adding: "We have to be better prepared."
He said a "number of young men [were] going to Syria and slipping back again" but he acknowledged the government did not know exactly how many Britons had gone to Syria and Iraq to fight.
"Nobody has an exact number, we know it is several hundred".
The defence secretary also confirmed two RAF Hercules aircraft took part in a humanitarian aid drop at Amerli in northern Iraq on Saturday night.
But he repeatedly said the UK had not been asked to take part in air strikes in Iraq.