Lib Dems to pledge longer paternity leave in manifesto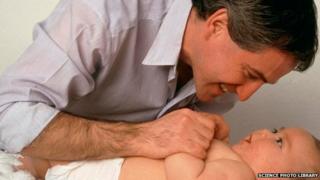 The Liberal Democrats will pledge to give fathers an extra four weeks' paternity leave in their manifesto for the general election.
The allowance will be extended from two to six weeks, under the Lib Dem proposals.
Lib Dem Business and Equalities Minister Jo Swinson said the move was intended to "establish the important role for dads" early in a child's life.
Labour said the Lib Dems were making "empty promises".
The proposal would extend total parental leave to 58 weeks.
The Lib Dem plan goes further than the coalition's shared parental leave policy, which is set to benefit 285,000 working couples from April.
It could mean mothers and fathers are both entitled to six weeks, with additional time shared between them.
For same-sex couples, both parents would be entitled to six weeks' reserved leave, with the rest also available to share.
'Shared responsibility'
The party said the extra paternity leave, which would be paid at the same level as statutory maternity leave, would be part of a "fully-costed manifesto".
Ms Swinson said: "Extending paternity leave is an important next step to encouraging new dads to spend more time with their child in those vital early weeks and months after birth.
"When parents share caring responsibilities, more equality in the workplace will follow."
Ms Swinson said it was "nonsense" to believe mothers should be left to care for children alone.
She added: "Most dads want to spend more time with their new baby, but can sometimes be discouraged by outdated ideas and cultural barriers in the workplace.
"The 'use it or lose' it six weeks will establish the important role of dads early on, and encourage couples to use the full flexibility on offer."
Nodded through
According to the party, international evidence suggests fathers' use of parental leave is higher when they are given targeted or reserve leave, rather than simply making shared leave available.
Gloria de Piero, Labour's shadow minister for women and equalities, said there were 628 fewer Sure Start children's centres since the Lib Dems came to power in the coalition and "up to £15bn" in support for children and families had been cut.
She added: "Nick Clegg has weakly nodded through a policy agenda which means there are 35,000 fewer childcare places and a cost-of-living crisis which means families will be £974 a year worse off by the time of the next election."
Mike Cherry of the Federation of Small Businesses said the "very unwelcome" proposal would create "uncertainty and complexity" for employers.
He added: "It is far, far more difficult to find a replacement for a six-week period than it is for a two-week period."