Nick Clegg wants new powers to bar militants' return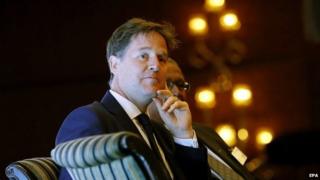 Nick Clegg has said he wants to find new ways to stop UK militants who fight in Iraq and Syria returning to Britain.
Speaking on LBC's Call Clegg programme, the deputy prime minister said one of his priorities was finding ways to take passports from Islamic militants.
He said the "traffic of people back and forth from this crucible of violence in Iraq and Syria" must stop.
On Wednesday, Britain's top policeman called for tougher measures to stop UK militants returning to the country.
In April 2013, the government unveiled new powers to remove passports from people "whose past, present or proposed activities, actual or suspected" were considered "so undesirable" that letting them keep their passport would be "contrary to the public interest".
The power is exercised under the Royal Prerogative - meaning Parliament is not consulted - and Mr Clegg said it had been used 23 times to remove passports.
Mr Clegg, who has just returned from a visit to India, said: "One of the first things I'm doing when I get back behind my desk... is to look at what more we can do to revoke and remove passports from people who clearly are travelling for no purpose other than wishing to inflict violence on others and pose a direct threat to us."
He added: "If we can keep them out, if we can stop people travelling out there in the first place... of course we should do that."
Speaking on Wednesday, Metropolitan Police Commissioner Sir Bernard Hogan-Howe said measures similar to control orders should be re-introduced to tackle the threat from Britons who fight with militants in Syria and Iraq - but Mr Clegg said the orders were "deeply flawed".
Control orders were replaced in 2011 by the less restrictive Terrorism Prevention and Investigation Measures (TPims), but Sir Bernard said the "drum beat has changed".
With control orders, ministers could place a suspect under close supervision. TPims restrict movement, the use of computers and mobile phones, and meetings with others.
Sir Bernard also said he believed that at least 500 to 600 Britons had travelled to Iraq and Syria to fight with militant jihadist group Islamic State.
Asked if those Britons should lose their passports, he said: "Certainly for us anything that either stops them from going or preferably stops them from coming back is a good idea."
He said it was thought that about 250 people had already returned to the UK.
Last week Home Secretary Theresa May announced new plans to tackle extremism in the UK.