Clegg does not understand constitution, says Steel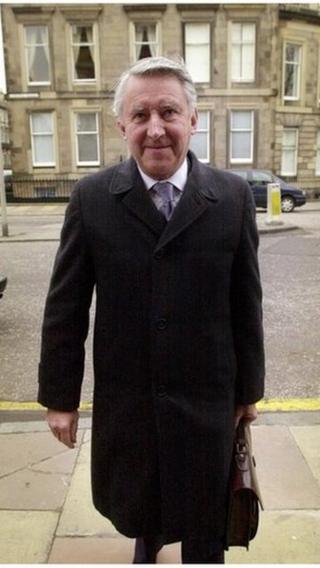 Deputy PM Nick Clegg is "a man of great ability" but "doesn't really understand the constitution", former Liberal leader Lord Steel has said.
Asked about Mr Clegg's character, the peer told the BBC: "He's extremely able and he's very quick and sometimes just a bit too quick for his own good."
Lord Steel admitted relations between the two were "a little strained" due to differences over House of Lords reform.
Mr Clegg abandoned plans for an elected Lords in the face of heavy resistance.
He had backed plans for 80% of peers to be elected by 2025 but dropped the idea in 2012 amid fierce opposition led by Conservative MPs.
At the time, Lord Steel was offering up a Bill that would introduce limited changes, making it easier for peers to retire and to ensure those found guilty of serious offences could be expelled.
'Over the top'
The Bill eventually became law last May but Nick Clegg was initially dismissive of the proposals.
And Lord Steel - Liberal leader between 1976 and 1988 - said that made him "a little cross".
He told BBC Radio 4's Reflections programme: "When he announced the withdrawal of his bill, I was actually sitting at home watching it on television.
"At his press conference, some journalist, I couldn't see who it was, said, 'Well, what about the Steel bill?' and he said, 'I don't believe in legitimising the illegitimate'. And I thought that was really a bit over the top so I told him so."
Lord Steel said their differing views about the pace of change to the Lords and how to go about it left relations "a little strained", adding: "I think one of the reasons for that was, I would contend, that Nick was a man of great ability who doesn't really understand the constitution."
'Unseemly haste'
Lord Steel was also critical of the way his party handled coalition negotiations after the 2010 general election, suggesting the option of doing a deal with Labour should have been explored a bit more before a deal was struck with the Conservatives.
"It was done with unseemly haste," he said of the discussions, which took place over five days.
"But it was also done the wrong way round by talking to David Cameron first and, in fact, the incumbent prime minister should have been talked to first.
"I think if that had happened, Gordon Brown would have done his statesmanlike thing and come out and said he was resigning as leader of the Labour Party much earlier and the party would have had much more clout with the Conservative Party because they would have been seen to be talking to their more natural allies first."
Asked by the programme's presenter Lord Hennessy about his own approach to politics, Lord Steel, who became an MP in 1965, admitted he was "preachy" but thought it was "in a good sense".
You can listen to Reflections with Peter Hennessy on the BBC iPlayer Radio