John Bercow 'open' to splitting Commons clerk job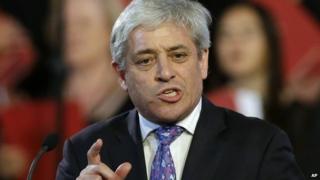 John Bercow has indicated he is willing to split the role of Commons clerk, the most senior official in the House of Commons, amid a row over the job.
MPs say the preferred candidate, Carol Mills, does not have enough knowledge of parliamentary procedure.
The Spectator said 74 MPs were backing calls for a pre-appointment hearing to scrutinise her suitability.
The Commons Speaker has suggested the post could be divided to separate management and procedural duties.
Ms Mills, who currently works in the Australian parliament, was selected after a recruitment process in which the job was externally advertised for the first time and candidates were interviewed by a cross-party panel of MPs and other officials.
'Fair and transparent'
MPs unhappy with the outcome have floated the idea of splitting the role into two, creating the new post of chief executive, responsible for managing Commons staff and administration, and a separate parliamentary adviser.
The BBC's Iain Watson said the Speaker felt that as the current recruitment process had been fair and transparent then any division of responsibilities should take place only when Ms Mills stood down.
But he has now let it be known to colleagues that the roles could be split rather sooner - and with no guarantee that Ms Mills gets either job.
The BBC understands the cross-party House of Commons Commission, which includes the Leader of the House, William Hague, among its members, will discuss whether to create two top jobs when it meets early next month, in the hope of ending the continuing controversy.
Retirement
The Commons Public Administration Committee has said it will also decide next week whether to hold a pre-appointment hearing, in effect to vet Ms Mills for the role.
The Spectator said 66 MPs had signed an early day motion calling for a hearing to be held and that another eight MPs also backed the move.
The row follows the retirement of Sir Robert Rogers as clerk last month.