John Bercow Commons Clerk row: What is going on?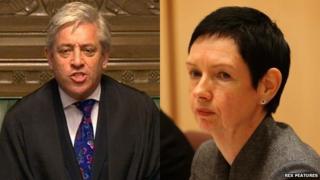 The top official at the House of Commons is paid more than the prime minister - but until now they have been selected without an open recruitment process. Why is the first outside candidate - and the first women proposed to take on the role - causing such a massive row?
Carol Mills, a senior official from the Australian Senate is being lined up for the £200,000-a-year role as Commons Clerk.
But some MPs are worried that she might not be up to the job.
---
Why has this blown up now?
It is all about the retirement of the current Commons Clerk, Sir Robert Rogers, who steps down at the end of August. A respected and popular figure - with a much-admired beard - the House of Commons is in his DNA.
He started working at the Palace of Westminster in 1972, becoming clerk in 2011. Educated at Oxford, where he studied Old Norse, mediaeval Welsh and Anglo-Saxon, he is joint author of the standard textbook, How Parliament Works. It is thought that he stepped down because of "clashes" with the Speaker John Bercow.
---
What does the House of Commons Clerk do exactly?
The job, which dates back to 1363, is to advise MPs on constitutional matters and Parliamentary procedure. The clerk is, in effect, the "village elder" with a bank of knowledge and personal memories about how to tackle problems.
A big chunk of the clerk's day is spent sitting in the Commons chamber giving advice to the Speaker.
He or she is also Commons chief executive. It is a big operation, overseeing around 2,000 staff and the services provided to MPs. There's a big pay packet to match - £200,000 a year, more than the prime minister gets.
---
How was Carol Mills chosen?
This is the first time the post has been thrown open to candidates from outside Parliament.
A cross-party panel of senior MPs, chaired by Speaker John Bercow interviewed eight candidates, who responded to an advertisement. The only non-politician on the panel was the Parliamentary Ombudsman Dame Julie Mellor.
Carol Mills has not officially got the job yet. Under Parliament's arcane traditions, the clerk is a royal appointment. So the panel makes a "recommendation" to the prime minister, who in turn passes the chosen name on to the Queen.
---
Who is Carol Mills?
She works for the Australian Senate in the Department of Parliamentary Services, which oversees buildings, catering and staff.
When she started that job in 2012 she vowed to get to the bottom of bullying claims in the department, saying: "There has to be an overarching culture of respect."
In an interview with the Canberra Times she said: "To be a good boss you have to be a good communicator, good listener and not afraid to make decisions where necessary."
---
Who has a problem with Carol Mills and why?
There has been a steady trickle of politicians criticising the panel's choice, such as former Commons leaders Jack Straw, Margaret Beckett and the Conservative chairman of the Public Administration Committee, Bernard Jenkin.
They say that while she may be a good administrator she does not have the necessary experience to advise MPs on parliamentary matters.
Former Commons Speaker Baroness Boothroyd predicted she would be "totally out of her depth".
They also point to a controversy she is facing in Australia over the use of security cameras to monitor a senator.
But the row could also be a way of getting at John Bercow. His enemies say that after the powerful figure of Sir Robert Rogers, he would like someone a bit more compliant. In defence of the Speaker, he has worked hard to modernise the Commons and wants to bring in people with experience of running large institutions.
With a multi-million pound refurbishment of the crumbling Palace of Westminster on the horizon, intimate knowledge of procedure may not be the most important qualification for the role.
---
What can the objectors actually do about it?
There do not seem to be any formal levers to overturn the recruitment process. What critics can do though is apply a lot of political pressure.
Bernard Jenkin has said he wants Carol Mills to face a confirmation hearing in front of his committee before the appointment goes ahead.
She is under no legal obligation to agree, although refusing would not get her relationship with MPs off to a good start.
John Bercow has now mooted the idea of creating two jobs - Commons Clerk and chief executive.
But that will not happen overnight and Sir Robert Rogers has warned it is the "wrong answer".
There is another way the situation may be resolved though. Carol Mills might decide that it just is not worth the hassle.
---
What happens next?
John Bercow has announced a "modest pause" in the recruitment process while MPs' grievances are looked at. While this goes on, existing Commons staff will carry out the clerk's duties.
The prime minister has said the next clerk will need support from MPs across the House to do the job successfully.
So it looks as if he is waiting to see if there is a real head of steam or if it is just a vocal few banging on about Carol Mills.
The BBC understands the cross-party House of Commons Commission - which includes the Leader of the House, William Hague, amongst its members - will discuss whether to create two top jobs when it meets on 8 September.
A Conservative MP, Jesse Norman, has tableed a motion, calling for a pre-appointment hearing. The Public Administration Select Committee will decide whether to ask her to appear before them.
So for the time being, David Cameron will not be asking the Queen to give her stamp of approval.
---
Still not sure whether to care?
If you value your elected representatives and want them to use their powers to best effect then you might care if they are not getting good advice.
After all, a crucial role of our MPs is to stand up to a powerful government. If, though, you're worried about the cost of politics, plans to create two senior jobs - with substantial salaries attached - might just get you going.
Another way of looking at the row, is to see it as a battle between traditionalists who like the Commons just the way it is and those, principally John Bercow, who are determined to bring in changes.