Scottish independence: Minister accused of NHS letter 'hypocrisy'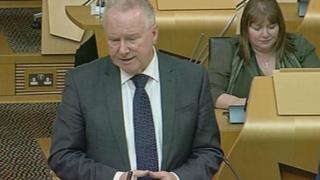 Scotland's health secretary has been criticised for sending a letter to NHS staff saying pensions post-Yes would be "affordable and fair".
Alex Neil's letter came to light after First Minister Alex Salmond had called for a pro-UK memo to civil servants to be withdrawn.
Labour MSP Jackie Baillie said the SNP administration was being hypocritical.
However, Mr Neil said he wrote his letter to "set the record straight and reassure our hard working NHS staff".
The UK government's Department of Work and Pensions memo was written by permanent secretary Robert Devereux and it described as "legitimate and necessary" civil servants' support for the UK government's position.
A spokesman for the DWP insisted staff in Scotland had not been told how to vote after unions raised questions about it.
The memo said: "It is important that, as civil servants, we understand why the Scottish independence referendum is different from elections such as a UK General Election or a European Election.
"This is because the UK government has a clear position to maintain the Union and so it is legitimate and necessary for UK civil servants to support the government in this objective."
Mr Neil's letter to health workers in Scotland said: "In the White Paper we made clear that, in an independent Scotland, all public service pension rights and entitlements will be fully protected and accessible and that this government is fully committed to providing a fair, affordable and sustainable pension and reward package to public sector employees."
He explained that he had decided to write the letter because many questions on public sector pensions had been sent to him.
However, Ms Baillie said: "This is the height of hypocrisy from the nationalists. On the day that they are complaining about the UK government contacting staff, the SNP Scottish government are doing the exact same thing behind closed doors.
"This is typical of the nationalists - they say one thing in public and an entirely different thing in private. It's no wonder Scots don't trust a word they say."