UK summons Russian ambassador over Ukraine 'incursion'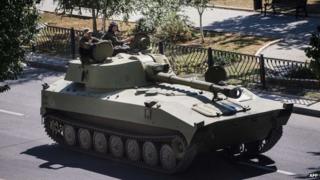 Russia's ambassador to the UK has been called to the Foreign Office (FCO) to clarify reports of a military incursion into Ukraine by Russian forces.
Alexander Yakovenko was also asked to explain a build-up of Russian military equipment on the border, the FCO said.
Prime Minister David Cameron has told Ukrainian President Petro Poroshenko of his "grave concern" at the latest move.
Earlier, Foreign Secretary Philip Hammond told reporters he was "very alarmed" by the incursion.
Downing Street said Mr Cameron and President Poroshenko also discussed a controversial Russian aid convoy of more than 200 lorries which has arrived at the Russia-Ukraine border.
Mr Cameron told the Ukrainian leader Russia should not use the aid convoy as a pretext for further provocation.
"Both leaders also agreed on finding a political solution to de-escalate the situation and the prime minister welcomed President Poroshenko's readiness to engage with Russia and other partners to achieve this," said a Number 10 spokesperson.
"Russia needs to demonstrate the same willingness to find a peaceful resolution to the conflict," he added.
Mr Hammond told reporters ahead of a meeting in Brussels he was "very alarmed by reports that Russian military vehicles may have crossed the border this [Friday] morning".
"Of course the humanitarian convoy itself is a separate issue," he added.
"But if there are any Russian military personnel or vehicles in eastern Ukraine they need to be withdrawn immediately or the consequences could be very serious."
Military supplies
Nato secretary general Anders Fogh Rasmussen confirmed the incursion.
"We see a continuous flow of weapons and fighters from Russia into eastern Ukraine, and it is a clear demonstration of continued Russian involvement in [its] destabilisation," he said.
Russia's government has consistently denied directly arming or training the rebels, who sparked the conflict in April when they took control of several cities in eastern Ukraine.
Relations between the West and Russia have deteriorated since a Malaysia Airlines aircraft was apparently shot down over eastern Ukraine on 17 July.
Pro-Russia militants, who are fighting Ukrainian government forces in the east of the country, have been blamed for bringing down the Boeing 777 as it flew from Amsterdam to Kuala Lumpur killing all 298 people on board.
The militants denied bringing down the jet and have blamed government troops.
Mr Hammond said: "We would urge the Russians to withdraw any military personnel that they have inside Ukraine and stop supporting the separatists as they have been doing for the last few months.
"The situation is potentially very dangerous and that's why we are here today discussing it."
Ukrainian border officials are inspecting more than 200 vehicles which have travelled from near Moscow to the border with eastern Ukraine, carrying what Russia says is humanitarian aid.
Ukraine fears the convoy may carry military supplies for the rebels, an accusation Russia has rejected.
Ukrainian officials said that the aid cargo would be delivered to Luhansk after being inspected by a team of around 80 customs inspectors and border guards.
Luhansk, a rebel stronghold, saw heavy shelling on Thursday, as did Donetsk, which is also held by rebels.
However, the Red Cross's Head of Operations for Europe and Central Asia, Laurent Corbaz, said that aid would not be distributed until the security of the Red Cross personnel who are meant to carry this out could be guaranteed.