UKIP's Nigel Farage seeking South Thanet selection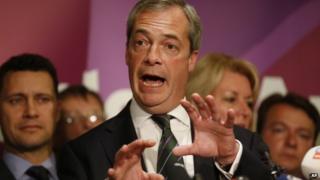 UKIP leader Nigel Farage has confirmed he is seeking selection as the party's candidate for the Kent seat of South Thanet at the next general election.
In his column for the Independent, Mr Farage, said: "I have thrown my hat in the ring". He is understood to be one of eight candidates for the seat.
Mr Farage, who was born in Kent, has represented south-east England in the European Parliament since 1999.
South Thanet is currently held by the Conservative MP Laura Sandys.
Following weeks of speculation over which seat he would contest at the 2015 general election, Mr Farage said in his newspaper column that "one of the members of UKIP's Thanet South branch decided to tell a newspaper I was standing in that constituency in 2015".
'Good chance'
He added: "The situation is that there will be a hustings in the constituency... at which the branch will decide who they wish to represent them.
"I have thrown my hat in the ring, but so have others, including a top-class barrister and friend of mine.
"It may seem silly to some that the leader of a party would have to go through the process of being approved and selected but, I assure you, rank means nothing in UKIP."
BBC political correspondent Iain Watson said Mr Farage believed he had a "good chance" of becoming the party's candidate.
The other candidates understood to be on the party's shortlist for the seat include "a couple of local people and a UKIP councillor", our correspondent added.
A week ago, UKIP denied Mr Farage wanted to stand in the Kent constituency and said a shortlist had yet to be put together.
The party leader contested the seat at the 2005 general election but came fourth with just 5% of the vote.
The question of where he would stand come the next election came to the fore after he declined to put his name forward for the Newark by-election in June, despite intense speculation. The seat was instead contested by UKIP MEP Roger Helmer.
Mr Farage said at the time that he would not contest the Nottinghamshire seat as he had "no real connections" to the area and that his candidacy would "reinforce the impression UKIP is a one-man band".
Laura Sandys was elected to Parliament for the Conservatives in 2010 and has a majority of 7,617.
She is standing down at the next general election and the Tories have chosen a founding member of UKIP and former leader of the party, Craig MacKinlay, as their candidate.