Israel export licences warning from UK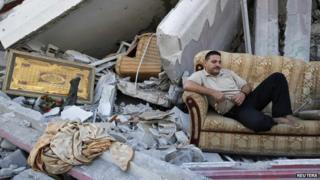 UK arms export licences to Israel will be suspended only if there is fresh violence in Gaza, ministers have said.
The UK has identified 12 licences for components which could be used in equipment in Gaza by Israel. It said it would suspend them "in the event of a resumption of significant hostilities".
The Lib Dems had urged a suspension regardless of the current ceasefire.
A spokesman said this was "as far as we have been able to reach in collective agreement with the Conservatives".
Baroness Warsi, who quit as Foreign Office minister over government policy on Gaza, said the UK's position on export licences was "morally indefensible".
'Cause for concern'
The Lib Dem spokesman said it was "no secret" there had been a difference of opinion in the coalition government on the issue of export licences.
He said Lib Dem ministers had "been very clear for some time both privately and publicly that they wanted to see arms export licences to Israel suspended because of the situation in Gaza".
"What is clear now is that we have agreement that if the current ceasefire ends in Gaza, which we all hope it doesn't, and there was a resumption of significant hostilities, then there would be an immediate suspension of those arms export licences to Israel that give cause for concern," said the spokesman.
The Department for Business, Innovation and Skills (Bis) has already been reviewing its export licences to Israel.
It found that most exports licensed for Israel were not for items that could be used by the Israeli Defence Force in Gaza.
Announcing the government's decision, Business Secretary Vince Cable said: "We welcome the current ceasefire in Gaza and hope that it will lead to a peaceful resolution.
"However, the UK government has not been able to clarify if the export licence criteria are being met."
The Lib Dem minster added: "In light of that uncertainty, we have taken the decision to suspend these existing export licences in the event of a resumption of significant hostilities.
"No new licences of military equipment have been issued for use by the Israeli Defence Force during the review period and, as a precautionary measure, this approach will continue until hostilities cease."
Israel-Gaza conflict
8 July
Israeli offensive began
4,760+ air strikes on Gaza

3,488 rockets fired at Israel

1,973 people killed in Gaza

UN estimates +70% of deaths are civilians

3 civilians killed in Israel

64 Israeli soldiers killed
AP
Baroness Warsi resigned last week, saying she could not longer support government policy on Gaza.
She wrote on Twitter: "The #UK Govt position to ONLY suspend IF hostilities resume is 'morally indefensible'. Surely the destruction to date meets the criteria!"
The conflict in Gaza escalated last month and since then 1,875 people have been killed there, while 64 Israeli soldiers and three civilians in Israel have been killed.
The licences do not include the single licence granted in February 2013 for the export of up to £7.7bn of cryptographic equipment or any components that form part of the Iron Dome system, which protects Israel from rocket attacks by militant group Hamas.